2015/02/26 Dresden, Germany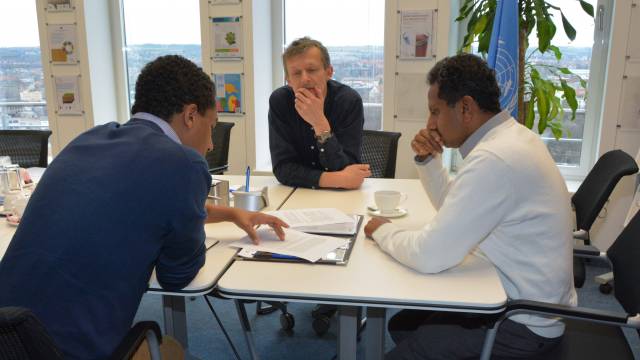 23–27 February 2015. Dresden  – The United Nations Institute for Integrated Management of Material Fluxes and Resources (UNU-FLORES), in joint cooperation with the Faculty of Environmental Sciences at Technische Universitдt Dresden (TUD), the European Project Centre (EPC) and the International Post-graduate Studies on Water and Technology (IPSWaT)*, organized a week-long workshop titled "Learning how to write a proposal by writing a proposal".  A pre-selected group of IPSWaT alumni was invited to discuss the global issues of water, soil, waste and climate change while simultaneously using the support systems from the aforementioned organizations preparing individual research proposals.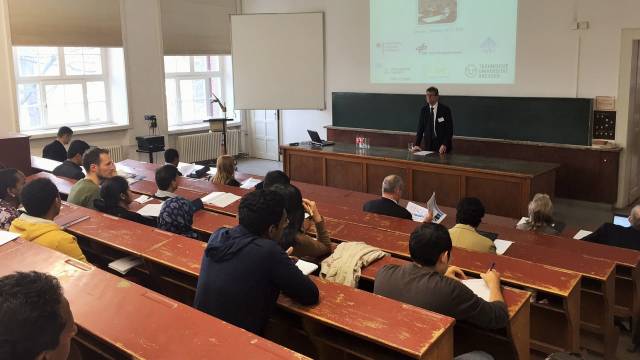 Taking place on the TUD campus, the week-long workshop commenced with welcoming remarks from Prof. Dr. Christian Bernhofer (TUD, Vice-Dean for Research of the Faculty of Environmental Sciences), Prof. Dr. Hiroshan Hettiarachchi (UNU-FLORES, PhD Program Coordinator and Academic Officer for Waste Management) and IPSWaT Coordinator Ms. Cornelia Parisius. With an emphasis placed on capacity building, the workshop aimed to strengthen each attendee's ability to produce innovative research that appropriately addresses development challenges. The main task for participants during this workshop was to create a research proposal. Experienced professionals in the field of research helped participants complete this task through interactive practice sessions, which provided a place for senior scholars to offer advice and support through dialogue with students. To compliment this element of the workshop, these same professionals gave presentations about the real-world application of research on a global scale in respects to the themes of water, soil, waste and climate change. Presentations about opportunities, such as the PhD and PostDoc programmes funded by DAAD and the Marie Sklodowska-Curie Individual Fellowship (IF), were also given.
A group from UNU-FLORES, which included Prof. Dr. Hiroshan Hettiarachchi, Dr. Mari Ito, research assistants and all newly enrolled PhD students, were in attendance during parts of the workshop both in a supportive and a participatory function. UNU-FLORES also contributed as a counseling site during the week, welcoming students on to its premises to interact personally with the academic staff. UNU-FLORES academic officers provided feedback for participants during the process of creating their research proposals. The workshop will conclude on Friday, 27 March with presentations from each participant on their revised proposals and a concluding discussion on the next steps for their research.
Programme flyer available here (PDF)
*The International Post-graduate Studies on Water and Technology (IPSWaT) is an international post-graduate scholarship program funded by the Federal Ministry of Education and Research (BMBF) and is coordinated by the Project Management Agency of the German Aerospace Center (PT-DLR).  IPSWaT focuses on water research and has awarded 400 scholars from 64 countries a Master- or PhD-scholarship at a German University.