2015/06/02 China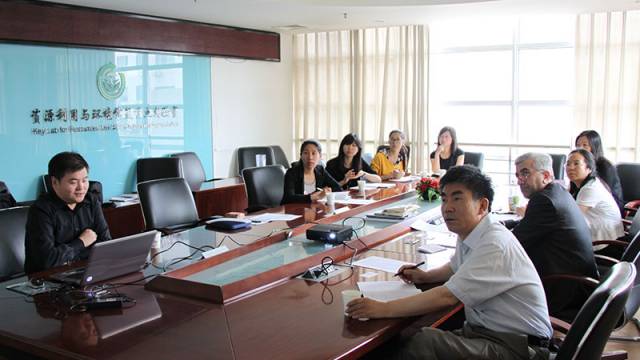 During a recent trip to China, UNU-FLORES Director Prof. Dr. Reza Ardakanian met with colleagues from the Chinese Academy of Sciences (CAS) and the Chinese Academy of Forestry (CAF) to discuss both continuing and expanding cooperation amongst the three institutions.
UNU-FLORES already maintains a fruitful relationship with both CAF and CAS and is currently working on a book project with them. The book will showcase, a research project on the response of water yield to changes in land-use and climate in the Yellow River basin, north-west China conducted by UNU-FLORES, CAF and the Technische Universitдt Dresden. Funded by the German Research Foundation (DFG), the project offers significant insight into the importance of using a nexus approach to improve ongoing adaptive land management policy both in this region and in general.* This project, as well as the possibility of joint educational ventures, was at the centre of this recent round of talks.
Ardakanian discussed possibilities for cooperation and joint activities in Asia in individual meetings with the directors of CAF-IFEEP and CAS-IGSNRR. UNU-FLORES agreed to jointly supervise PhD students based on shared research interests from both institutions. An invitation was also extended to host short-term scholars and PhD students of CAF-IFEEP and CAS-IGSNRR in Dresden.
Visiting CAF on 19 May 2015, Ardakanian met with Mr. Wang Zhongjun, Director of the Institute of Forest Ecology, Environment of (CAF-IFEEP) and Prof. Yanhui Wang. Possibilities for the continuation and expansion of joint activities were discussed, such as, the collaborative research project conducted in Northwest China. Both institutes expressed interest taking this project into a second phase. On 21 May 2015, Ardakanian met with Director of the International communication Dr. Xiangzheng Deng, Prof. Lin Zhen, Prof. Gaodi Xie, Dr. Huimin Yan, and Dr. Wenping Sheng from the CAS Institute of Geographic Sciences and Natural Resources Research (CAS-IGSNRR) to discuss potential cooperation and other joint activities, such as the Dresden Nexus Conference 2017.
---
*For more information on the research project conducted by the Soil and Land-Use Management Unit at NU-FLORES in collaboration with the Chinese Academy of Forestry in Beijing and Technische Universiдt Dresden, and funded by the German Research Foundation (DFG) please click here.