2015/02/23 Bonn, Germany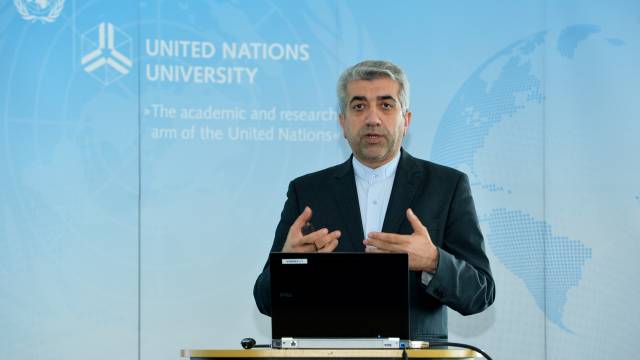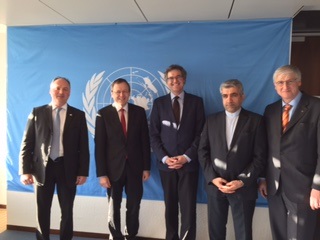 Prof. Reza Ardakanian, Director of the United Nations Institute for Integrated Management of Material Fluxes and Resources (UNU-FLORES), spoke at a ceremony to celebrate a new cooperation agreement between the German Aerospace Center (Deutsches Zentrum für Luft- und Raumfahrt; DLR) and the United Nations University (UNU). Johann-Dietrich Wörner, Chairman of the DLR Executive Board, and Jakob Rhyner, Vice Rector of UNU in Europe and Director of UNU Institute for Environment and Human Security (UNU-EHS) in Bonn, signed an agreement to strengthen and expand cooperation between these two entities.
Head of a UNU institution that is already collaborating successfully with DLR, Ardakanian was invited to speak about these experiences during the ceremony. In his speech, Ardakanian highlighted the success of past collaborations and the potential that will emerge from this reaffirmed commitment. This was also the topic of Rhyner and Wörner's remarks.
"DLR and UNU have worked together on numerous projects over the last 10 years – including the German Indonesian Tsunami Early Warning System (GITEWS) project. GITEWS is an early warning system off the coast of Indonesia, which was developed after the catastrophic seaquake on Christmas of 2004," Wörner explained: "It is our goal to noticeably and tangibly enhance the social benefits that Earth observation data can offer."
DLR and UNU expect that their agreement will result in even closer ties between science and practice, additional joint projects in the field of Earth observation and climate change as well as sustainable resource protection. The two organizations will also collaborate on satellite communication and navigation, with the goal of increasing knowledge and knowledge transfer. This may also include exchange programmes for experts and the joint supervision of PhD and Master's students. Just recently, DLR and UNU-FLORES submitted a joint proposal for a project on the impact of agro-chemicals on soil and water quality titled "AgroMap".
The agreement between the two organizations will run initially for a period of five years.