2020/04/20 Dresden, Germany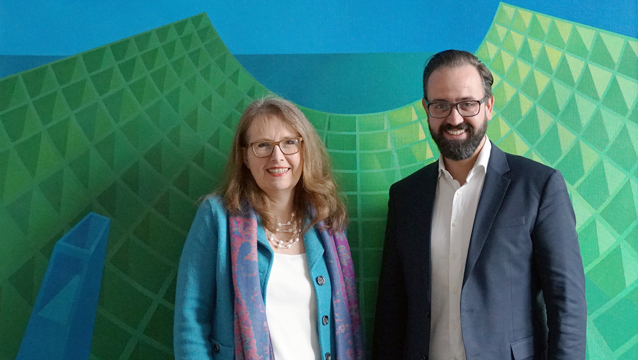 By Ying Liu, Office of the Director
On 4 March 2020, UNU-FLORES Director Prof. Edeltraud Guenther paid her second visit to the Saxon State Ministry for Science, Culture and Tourism (SMWK), this time meeting with State Minister Sebastian Gemkow, who has been newly appointed as the Saxon State Minister for Science in December last year.
Following a warm welcome on the Director's arrival, State Minister Gemkow and Prof. Guenther exchanged on the programmes covered in the Memorandum of Understanding between UNU-FLORES and SMWK. State Minister Gemkow supports the role of UNU-FLORES as a think tank working in cooperation with Saxon universities and research institutes, as well as other institutions worldwide.
"The work of UNU-FLORES, under the Nexus Approach slogan, is of great importance – especially in the critical emerging fields of the environment, raw materials, and resources."
– Sebastian Gemkow, Saxon State Minister for Science
Beyond research, UNU-FLORES provides training and further education in a bid to develop capacity in the field of environmental resource management. Looking at the science-policy interface, in particular, State Minister Gemkow approved UNU-FLORES's role in supporting regional decision-makers to take natural resources management into account.
As an institute of the United Nations University, the knowledge-based international organisation supporting the UN to achieve the Sustainable Development Goals (SDGs), UNU-FLORES maintains a network with international stakeholders, presenting regional research institutes with new opportunities. UNU-FLORES connects the Saxon region to the international community by engaging local actors in pressing global issues, such as several joint projects aiming at climate protection in various regions of the world – from China to East Africa – in collaboration with TU Dresden.
The long-running efforts of bridging the gap between industrial nations and developing countries within sustainable resources management are also appreciated by State Minister Gemkow. Backed by the valuable experiences that UNU-FLORES brings in, "adapting solutions to problems so that they can be applied to local issues, UNU-FLORES makes a valuable contribution here".