2022/12/23
The last weeks of 2022 have been a very busy, but highly productive time at UNU-FLORES, as Team Members from around the world touched down in Dresden – some for the first time – to participate in several high-level meetings and workshops, and to celebrate a decade of UNU-FLORES work.
10th Meeting of the UNU-FLORES International Advisory Committee
UNU-FLORES' 10-year anniversary week commenced with the Institute's 10th annual Advisory Committee meeting. This meeting saw the Advisory Panel Members and Representatives from the Donor organisations receive updates regarding the progress made by the Institute throughout the year and provided a platform for these experts to offer advice and guidance to overcome any challenges, and to provide suggestions as to how the impact of research can be elevated.
As this AC meeting was the first to be held in-person since 2019, Partnerships and Liaison Officer, Dr Nora Adam, jumped at the opportunity to receive support from these experts (particularly AC Chair, Professor Joseph Alcamo, and Professor Ronald Tetzlaff from our partner university, TU Dresden), and conducted a workshop on the topic of 'boosting the input of UNU-FLORES to the wider UN system'. This workshop was very well received by Team Members and experts alike, with all UNU-FLORES participants greatly benefitting from the experience of both the AC and the Rectors Office.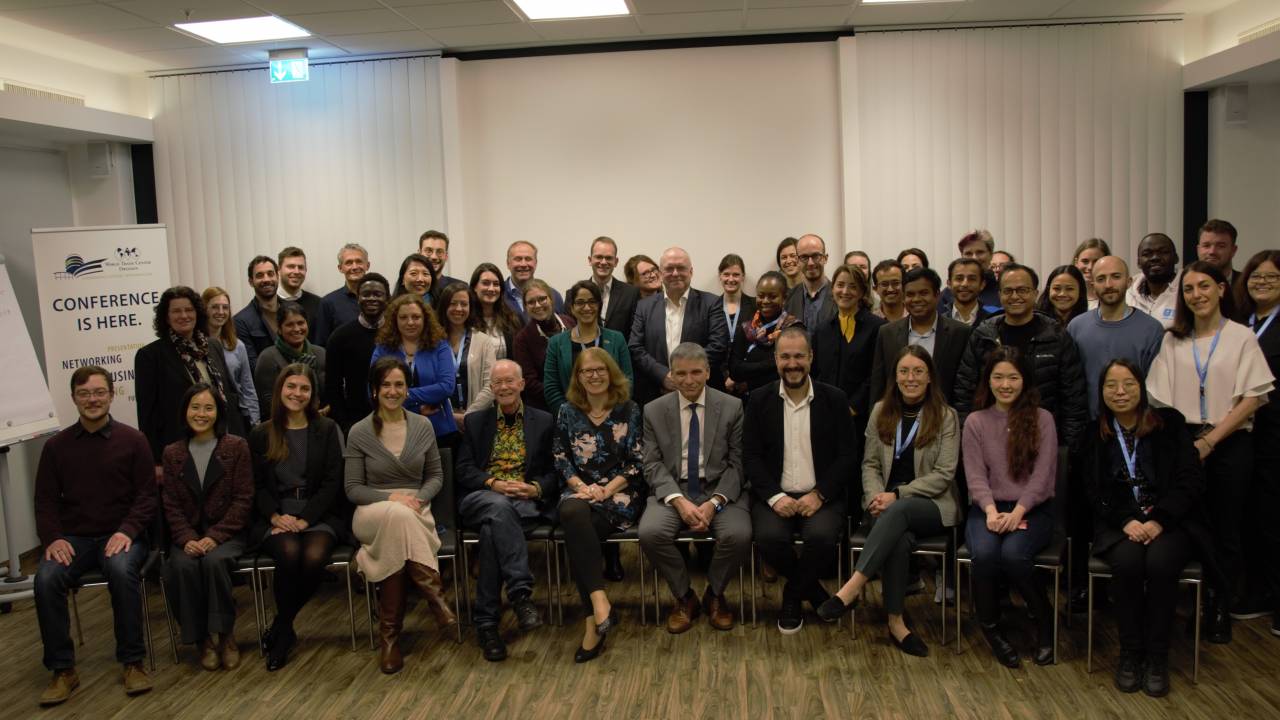 UNU-FLORES Farewells Rector David Malone with Intimate Event
This years' Advisory Committee meeting was particularly special, as it was the last one to be attended by the Rector of UNU, and Undersecretary General to the UN, Dr David Malone. To express the Institute's gratitude for his years of service, leadership, and motivation, an intimate 'Fireside Chat' was held on the evening of December 5, where Rector Malone was interviewed by Professor Guenther in front of the UNU-FLORES Team and the Institute's supporters. During this interview, Rector Malone provided a fascinating insight into his impressive career in international affairs, as well as imparted advice for the next generation of diplomatic advocates.
"Curiosity is something that doesn't relate to intelligence. You can be highly intelligent but not particularly curious, and your life will not be terribly interesting. whereas you can be less intelligent but very curious and have a fascinating life because you have tried all sorts of different gifts." – Rector Malone
Doctoral Symposium
This year's Doctoral Symposium was held on Thursday 8 December in UNU-FLORES in person in a hybrid format. The day's schedule included 16 presentations and 3 poster presentations by the Doctoral Researchers enrolled in the Joint PhD Programme in Integrated Management of Water, Soil, and Waste and the Joint Junior Researcher Programme with Technische Universitaet Dresden.
The symposium aims to provide doctoral researchers across different stages of their dissertation process with an opportunity to present and receive feedback on their ongoing research in the presence of other participants, scientists, and donors. The discussions resulted in interesting inter-linkages between several projects and sparked ideas for potential collaborations.
UNU-FLORES Team Celebrates!
The Doctoral Symposium was followed by a team party to commemorate the 10th anniversary of UNU-FLORES. The atmosphere was jovial and festive during which odd recycled or homemade gifts were exchanged in the spirit of sustainability. The Team danced through the night to an eclectic selection of international songs, and sang 'Happy Birthday' to the Institute in a dozen different languages around a UN-inspired, homemade cake. A UNU-themed bingo quiz, prepared by the Doctoral Student group, closed an eventful evening that completely embodied the community and inclusivity that the Institute aims to cultivate.
Andrea Mueller Defends Doctoral Thesis
Finally, the successful thesis defence of Andrea Mueller on 20 December brought 2022 to a very positive end for the UNU-FLORES Team. Dr Mueller commenced her doctoral studies in 2017, through which she created a decision-making framework to support water management – the overall objective of which was to develop and test a decision support framework for the evaluation of the sustainability of water reuse as a measure to reduce the risk of water scarcity.
As a great representative of the Institute's doctoral student body, a dedicated researcher, and a valued and reliable member of the UNU-FLORES Team, Dr Mueller will be very much missed – but is sure to create positive impact in her field as she continues her important work.