2018/01/12 Dresden, Germany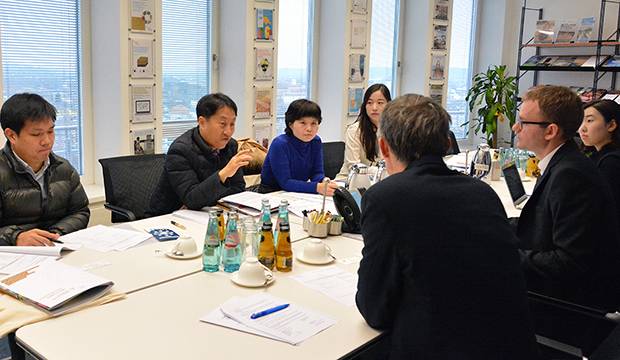 Reporting by Jiwon Park, K-eco Intern with Communications & Advocacy Unit
Since UNU-FLORES signed a Memorandum of Understanding (MoU) with the Korea Environment Corporation (K-eco) in December 2016, cooperation between the two organisations has been fortified, particularly through the programme for young researchers.
On Wednesday 6 December 2017, UNU-FLORES welcomed a visit from the Ministry of Environment of the Republic of Korea (KME) and Korea Environment Corporation (K-eco) in Dresden, Germany. The members of the delegation were Ms Su-In Yang (Deputy Director, KME), Mr Yong-Guk Jung (Deputy General Manager, International Cooperation Team, K-eco), and Mr Bong-Geul Joo (International Cooperation Team, K-eco).
Basing discussions on the current cooperation agreement, both parties exchanged notes on their respective programmes for young scholars. UNU-FLORES presented on its internship and PhD programmes.  During their stints, UNU-FLORES interns may gain a wide variety of experiences from working for academic units to doing more advocacy work with the communications team or by supporting the Director's office. Strengthening cooperation between UNU-FLORES and K-eco, the visiting delegation briefed the hosts on their scholarship programme – the International Environment Expert Training Program (IEETP) – and shared overall plans for 2018.
IEETP organised by KME, K-eco, is a programme fostering global experts through interdisciplinary courses on international environmental issues such as climate change and resource management. Following training courses, K-eco dispatches young researchers to gain work experience in international organisations and supports them by providing a monthly stipend. UNU-FLORES is one of the international organisations hosting IEETP scholars.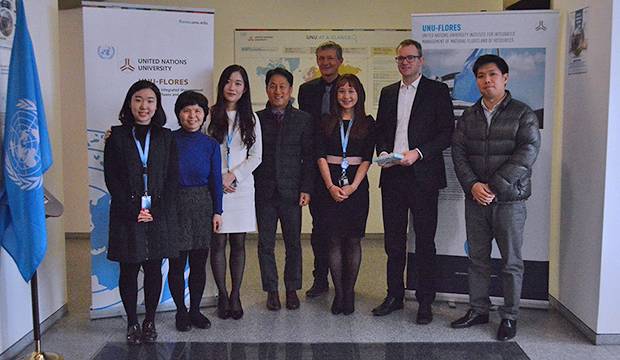 Since 2015, UNU-FLORES has hosted 14 students from the Republic of Korea in internship positions with academic and administrative units, 11 of whom were IEETP scholars. Currently, UNU-FLORES is hosting three Korean interns who are supporting both the research and academic as well as administrative functions. Interns have gained a rich working experience in the intercultural and international environment the Institute operates in.
The meeting concluded on a hopeful note, with possibilities for further training opportunities being raised. This visit will help promote relations between the two organisations.