2016/08/15 Dresden, Germany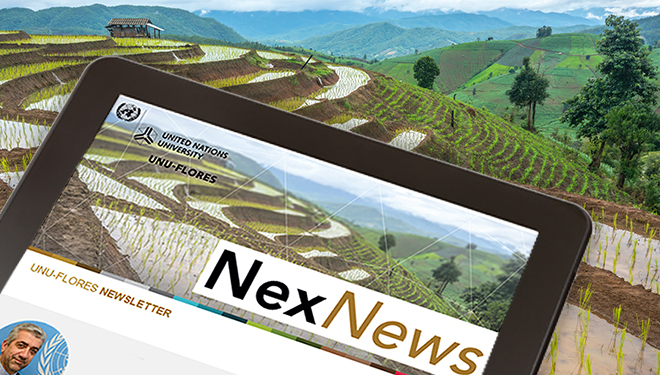 Dear Readers,
Welcome to the first edition of NexNews! This new quarterly e-Newsletter informs about the activities of UNU-FLORES and advancements in research on the Water-Soil-Waste Nexus.
With the adoption of the Sustainable Development Goals (SDGs), we are witnessing unprecedented momentum behind the longstanding efforts of the international community to eradicate poverty and end hunger across the globe. To realise these often interrelated goals involving various resources, however, there needs to be a deeper appreciation for and understanding of the interconnectedness. Applying a Nexus Approach to the management of environmental resources has never been more important.
From gathering examples of the safe use of wastewater in agriculture in Latin America to developing strategies for multifunctional land use in north-west China, UNU-FLORES works closely with UN Member States and international research institutes around the world to develop nexus solutions. In conferences and workshops our experts are meeting directly with practitioners and academics from across disciplines and sectors to both share and develop capacity building mechanisms, and identify concrete needs for more. In all of these relations, the Institute takes a client's perspective, asking ourselves what a Member State would hope to receive when aiming at managing its environmental resources in a sustainable way.
It is with this objective in mind that we wish to share with you our latest activities and research findings, and keep you up-to-date on new publications and learning opportunities through our e-Newsletter. We will also introduce you to our staff and visiting scholars in the feature article. Our e-Newsletter is published in the middle of each quarter. For more regular updates visit our Twitter and Facebook pages.
Please enjoy our first edition of NexNews and stay tuned!
Best regards,
Reza Ardakanian
Director, UNU-FLORES