2015/03/06 Dresden, Germany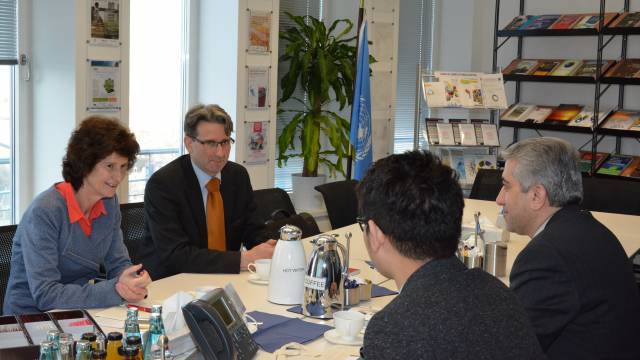 On 4 March 2015, the Director and staff of UNU-FLORES welcomed a visit from the newly designated State Minister for Higher Education, Research and the Arts (SMWK), Dr. Eva-Maria Stange. Dr. Walter Kühme, Head of Division for SMWK, accompanied the Minister on her visit.
Beginning with a tour of the Institute, the Minister was given an introduction to the scientific and supporting units. The tour also provided an opportunity to meet not only the staff but the new cohort of PhD students who joined UNU-FLORES in early 2015.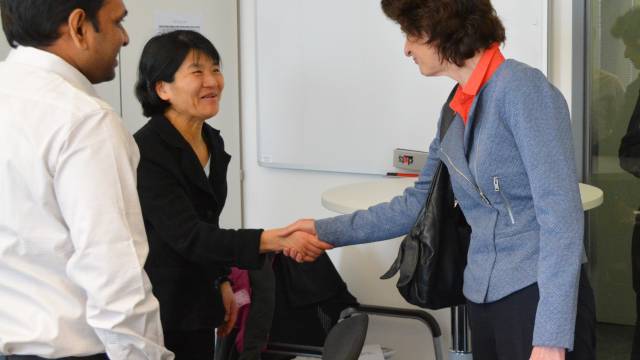 During a meeting with Director Prof. Reza Ardakanian, the Minister was provided an overview of the institutional developments and research activities of UNU-FLORES. Following the meeting, the Minister expressed her admiration for the Institute's achievements and diversity within two years. "UNU-FLORES will continue its efforts in its mandated research and activities in reinforcing Dresden as an attractive international hub for the Nexus," said Ardakanian.
UNU-FLORES is supported by the Federal Government of Germany through the Federal Ministry of Education and Research (BMBF) and the Free State of Saxony through the Ministry for Higher Education, Research and the Arts (SMWK).  To learn more about Saxon State Minister Dr. Eva-Maria Stange, please visit http://www.smwk.sachsen.de/270.html.