2015/02/06 Dresden, Germany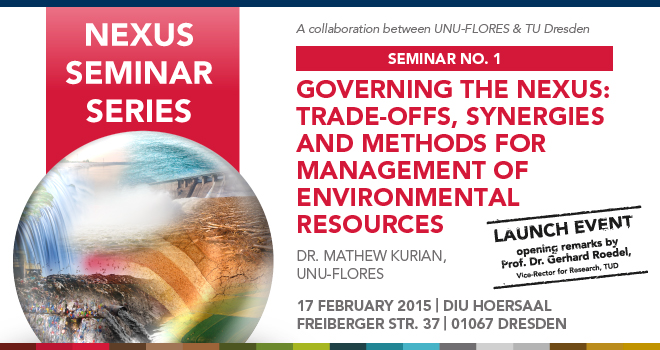 UNU-FLORES together with the Faculty of Environmental Sciences of TU Dresden is launching its latest initiative, the Nexus Seminar Series, on 17 February 2015. The joint seminar series will explore topics related to the integrated management of environmental resources, namely water, soil and waste.
The objective of the joint Nexus Seminar Series is to expand scientific cooperation and to establish a platform for regular scientific exchange. Seminars will take place once per month with speakers alternating between UNU-FLORES and TU Dresden on topics covering all aspects relevant to the nexus approach to the sustainable management of water, soil and waste.
The first Nexus Seminar features opening remarks by Prof. Dr. Gerhard Roedel, TU Dresden Vice-Rector for Research, and presentation from Dr. Mathew Kurian, UNU-FLORES Academic Officer, on the topic Governing the Nexus: Trade-offs, Synergies and Methods for Management of Environmental Resources.
---
Nexus Seminar No. 1
"Governing the Nexus: Trade-offs, Synergies and Methods for Management of Environmental Resources"
Speaker: Dr. Mathew Kurian, UNU-FLORES
Date: 17 February 2015
Time: 15:00–17:00
Venue: DIU Hoersaal, Freibergerstrasse 37, 01067 Dresden