2017/08/25 Bonn, Germany
Water is the lifeblood of our planet. Climate change, aggravated by human activities, adversely affects the water system. A growing challenge is the increase in the occurrence of floods and droughts due to climate change. This is causing health and food problems, especially among the world's poorest people, who live in the most vulnerable and least productive environments. Existing problems will intensify in the future if equitable and integrated sustainable water management is not implemented.
"Global warming is expected to accelerate the hydrologic cycle and thereby the severity and occurrence of droughts."
– Ana Andreu Mendez, UNU-FLORES research assistant
At the Pan African University – Institute of Water and Energy Sciences (PAUWES) Summer School on 5 July, this important issue was the topic of a webinar delivered by UNU-FLORES researcher Ana Andreu Mendez (Systems and Flux Analysis Considering Global Change Assessment (SFA)). After a short description of drought characteristics, she focussed on the disastrous effects of climate change in arid ecosystems: heat waves, wildfires, and droughts.
Addressing the impacts on the water cycle, Andreu highlighted that arid regions suffer the worst consequences. As higher temperatures reduce renewable surface water and groundwater resources, intensifying competition for water sectors takes place, causing conflicts. To avoid making the situation worse, she suggested some options for adaptation.
To address the threat in arid areas, she recommended an adapted risk management: instead of providing an emergency response, she advises a proactive approach by monitoring water supply and protecting land use and ecosystems.
Due to the interlinkages between resources, and between resources and society, their sustainable management requires a holistic perspective. One such perspective is the Nexus Approach. An integrated management and monitoring of resources as embodied by the Nexus Approach means having integrated tools that are capable of addressing and reducing uncertainties associated with resources management with the use of timely and precise information on ecosystem dynamics.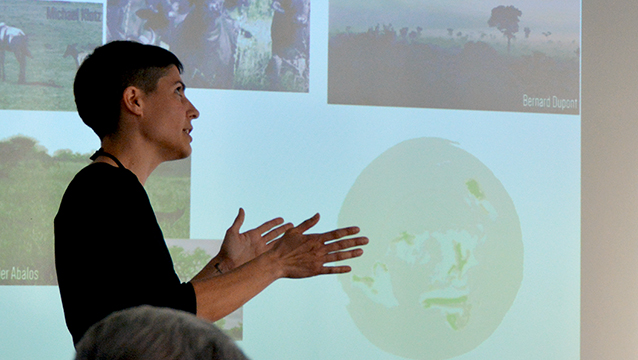 Known for her work on remote sensing for water management in Africa's savannas, Andreu uses satellite data to assess seasonal temporal changes, especially increasing droughts, and to map water use. The aim is to better understand water fluxes and to model water scarcity situations. Andreu is a Marie Curie Fellow, having been awarded a research training grant from the European Commission within the Marie Curie Actions programme.
For the second year running, Andreu delivered the webinar on behalf of UNU-FLORES, following an invitation from the Summer School organisers. This year 39 students from 18 African countries have taken part. UNU-FLORES's sister institute United Nations University – Institute for Environment and Human Security (UNU-EHS) based in Bonn, was one of the co-organisers.