2017/09/01 Dresden, Germany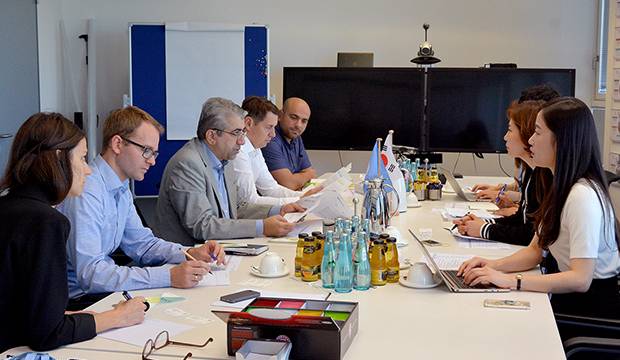 In previous years, UNU-FLORES has established a successful cooperation with the Korea Environment Corporation (K-eco). Highlights include the signing of a Memorandum of Understanding in December 2016 to strengthen research and scientific exchange, and in May this year, K-eco participated in the Dresden Nexus Conference 2017 (DNC2017). On 30 August 2017, a delegation from K-eco met with the UNU-FLORES team to further maintain the good ties.
Mr Byung-Sun Song and Ms Kyung-He Park from K-eco's Human Resources Management Team visited UNU-FLORES, introducing K-eco's scholarship programme and their fields of interest. The partners discussed the terms of the scholarship and the potential for joint research projects in the implementation of research results in the area of sustainable use of resources and treatment of waste.
One form of cooperation is K-eco's dispatch of young scientists to participate in UNU-FLORES's internship programme. The first Korean student started her internship in August 2015 in Dresden and to date 13 students from Korea have successfully completed an internship in academic and administrative units of the Institute, 10 of whom were supported by K-eco.
Besides the dispatch of young scientists, the MoU also highlights sending K-eco professionals as visiting scholars to UNU-FLORES. In order to further activate the MoU in this area, the 30 August meeting brought discussions further. In addition, K-eco showed interest in the Joint PhD programme of UNU-FLORES and TU Dresden. UNU-FLORES proudly shared feedback about interns from Korea, having been well-prepared for the internship and showing highest motivation and dedication.
As a next step it has been agreed that possibilities be explored for a joint workshop where topics of common interest could be discussed and defined for future cooperation.