2017/04/04 Dresden, Germany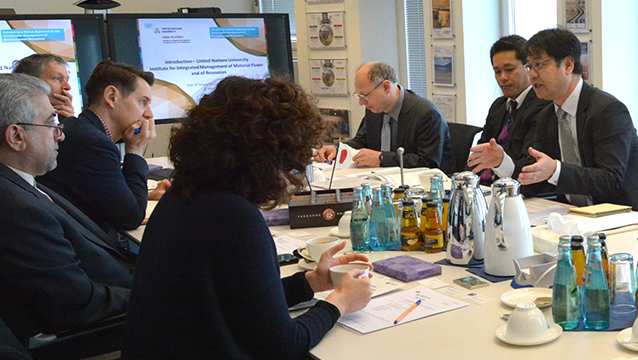 On Monday 27 March, UNU-FLORES welcomed to its premises a delegation from the Tohoku University in Japan. Prof. Toshiaki Yoshioka, Dean of the Graduate School of Environmental Studies, Tohoku University, was accompanied by his two colleagues, Dr. Komori Daisuke and Dr. Guido Grause.
The delegation expressed interest in cooperating with UNU-FLORES. The aim of the meeting was to discuss the prospects for collaboration between UNU-FLORES and Tohoku University at graduate school level. Based on the introduction of each institute's expertise, interests, and ongoing projects, the potential opportunities for cooperation in research and PhD programmes were highlighted. One of the possible topics is agricultural sciences, including resources use, bioenergy, climate change impact, agricultural economy, and implementation.
UNU-FLORES is hosting the Dresden Nexus Conference in May. UNU-FLORES Director Reza Ardakanian welcomed the delegation to attend the conference and to use the opportunity in May to discuss concrete areas of cooperation.