2016/06/24 Paris, France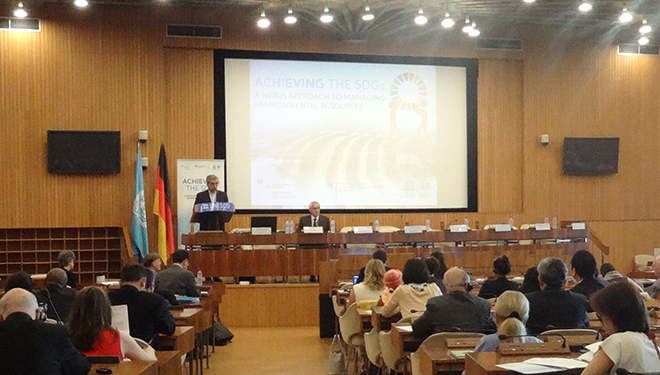 The Sustainable Development Goals (SDGs) is a one-of-a-kind agenda for eradicating poverty and ending hunger. Not least because of the uniquely integrated framework and nature across goals and targets. From the Millennium Development Goals we have learned a lot, including that poverty eradication and social and economic development cannot be sustained if we neglect environmental degradation and climate change. The 17 new goals' integrated nature demonstrates an understanding that many resources supporting development are finite and also crucial for vital ecosystem services. Development can only be sustained if these constraints are considered. Achieving the SDGs will therefore require an understanding of this interconnectedness.
The interconnectedness of the various SDGs is both a challenge and a blessing. On the one side, overlooking, misunderstanding or ignoring interlinkages can have considerable consequences. On the other side, understanding these interlinkages can allow us to develop strategies for achieving the SDGs that are more efficient and cost-effective. The real question: Do we have the management tools and appropriate mindset to capitalise on these synergies and choose the best trade-offs?
An approach for dealing with this mix of challenges and blessing is the Nexus Approach. In his opening remarks, H. E. Ambassador Dr Michael Worbs, Permanent Delegate of the Federal Republic of Germany to UNESCO explained:
After the Bonn2011 Nexus Conference, the Rio+20 Conference highlighted the importance of the Nexus of Water, Food and Energy. The United Nations University decided to support this concept scientifically by establishing an institute focusing on the Nexus approach in managing environmental resources. Germany fostered this initiative through the establishment of UNU-FLORES in Dresden in 2012.
On 22 June 2016, UNU-FLORES organised an event at UNESCO Headquarters in Paris on "Achieving SDGs: A Nexus Approach to Managing Environmental Resources" with UNESCO-International Hydrological Programme and under the patronage of H.E. Ambassador Dr Michael Worbs, Permanent Delegate of Germany to UNESCO. From 11:00–12:30 high-level officials and representatives from over 60 Permanent Delegations, and numerous UNESCO Secretariat Offices were introduced to the Nexus Approach to environmental resources management and its relevance for national strategies to achieve the UN SDGs.
The over 100 guests at the event were welcomed by H.E. Dr Worbs, Assistant Director-General for Natural Sciences at UNESCO Dr Flavia Schlegel (top), Representative of UNU at UNESCO H.E. Ambassador Daniel Rondeau (middle), and UNU-FLORES International Advisory Committee Member Prof. Wim Van Vierrsen (bottom).
UNU-FLORES Director Prof. Reza Ardakanian provided a brief introduction to the history and framework of the Nexus Approach, specifically highlighting its relevance for sustainable development projects. Outlining the cutting-edge research and capacity building activities on the Nexus Approach at the Institute, he emphasised that UNU-FLORES continually strives to improve the resources available for implementing such an approach in national strategies for achieving the SDGs.
The second part of the event encompassed remarks on collaborative activities from a number of partners of UNU-FLORES. First the co-organiser UNESCO-IHP, represented by Dr Giuseppe Arduino, Chief of Section a.i. Eco-hydrology, Water Quality and Water Education Section (EQE), gave a brief presentation on the Nexus Approach in UNESCO-IHP activities and synergies with UNU-FLORES. The remaining remarks were given by representatives of Member States, with which UNU-FLORES works closely, respectively: H.E. Ambassador Mr Byong Hyun Lee, Permanent Delegate of the Republic of Korea to UNESCO (left); H.E. Ambassador Mrs Begum K. Taj, Permanent Delegate of Tanzania to UNESCO (middle); and H.E. Mr Raul Hildalgo Gallegos, Chargé d'Affaires of the Permanent Delegation of Peru to UNESCO (right).
The event was followed by the launch of UNU-FLORES book Environmental Resource Management and the Nexus Approach: Managing Water, Soil, and Waste in the Context of Global Change (Springer 2016) and a reception, hosted by UNU-FLORES and the Permanent Delegation of Germany to UNESCO from 12:30–14:00. During the launch, UNU-FLORES Director Ardakanian, H.E. Dr. Worbs, and Prof. Sabine Freifrau von Schorlemmer of the German Commission for UNESCO highlighted the valuable contribution this new book provides to debates on sustainable environmental resource management practice.
Final Programme
Moderators:

Giuseppe Arduino
Chief of Section a.i. Eco-hydrology, Water Quality and Water Education Section, UNESCO-IHP
Reza Ardakanian
Director, UNU-FLORES

11:00
Welcome Remarks

H.E. Ambassador Dr Michael Worbs, Permanent Delegate of the Federal Republic of Germany to UNESCO
Dr Flavia Schlegel, Assistant Director-General for Natural Sciences, UNESCO
H.E. Ambassador Mr. Daniel Rondeau, Representative of UNU at UNESCO
Prof. Wim van Vierssen, International Advisory Committee Member, UNU-FLORES

11:15
An Introduction to the United Nations University Institute for Integrated Management of Material Fluxes and of Resources (UNU-FLORES)

Reza Ardakanian, Director

11:50
The Nexus Approach at UNESCO-IHP and synergies with UNU-FLORES

Blanca Jiménez-Cisneros, Secretary, IHP, Director, Division of Water Sciences, UNESCO

12:00
Remarks from Member States on cooperation with UNU-FLORES
H.E. Mr Byong Hyun LEE, Permanent Delegate of the Republic of Korea to UNESCO
H.E. Mrs. Begum K. Taj, Permanent Delegate of Tanzania to UNESCO
H.E. M. RAUL HIDALGO GALLEGOS, Chargé d'Affaires of the Permanent Delegation of Peru to UNESCO
12:15
Questions & Answers
12:30
Venue: Restaurant on 7th Floor
Reception

Book Launch: Environmental Resource Management and the Nexus Approach: Managing Water, Soil, and Waste in the Context of Global Change (Springer 2016)
Exhibition of UNU-FLORES Projects