2016/06/22 Dresden, Germany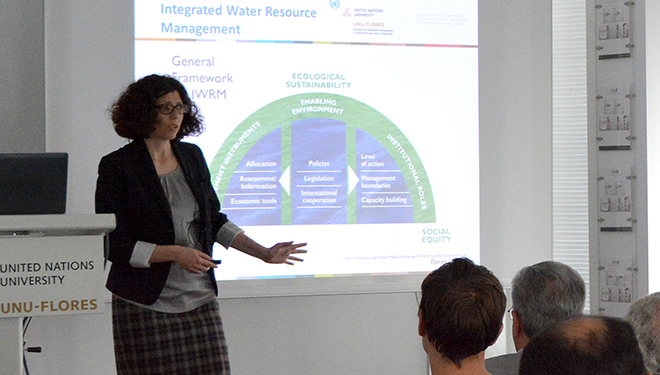 Approximately 3.5 million people die each year due to inadequate water supply, sanitation and hygiene (UN Water 2013). In terms of water quality, 96% of all our water is withdrawn from freshwater (FAO-Aquastat 2010) and yet the biodiversity of freshwater ecosystems has been degraded more than any other ecosystem (UN Water 2013). Throw in politics and human activities into the mix and we get alarming levels of water stress (ratio of total withdrawals to total renewable supply in a given area) worldwide. Given the importance of water and the urgent need for solutions managing the resource today, there is no better time to introduce new ways of looking at water resources management than now.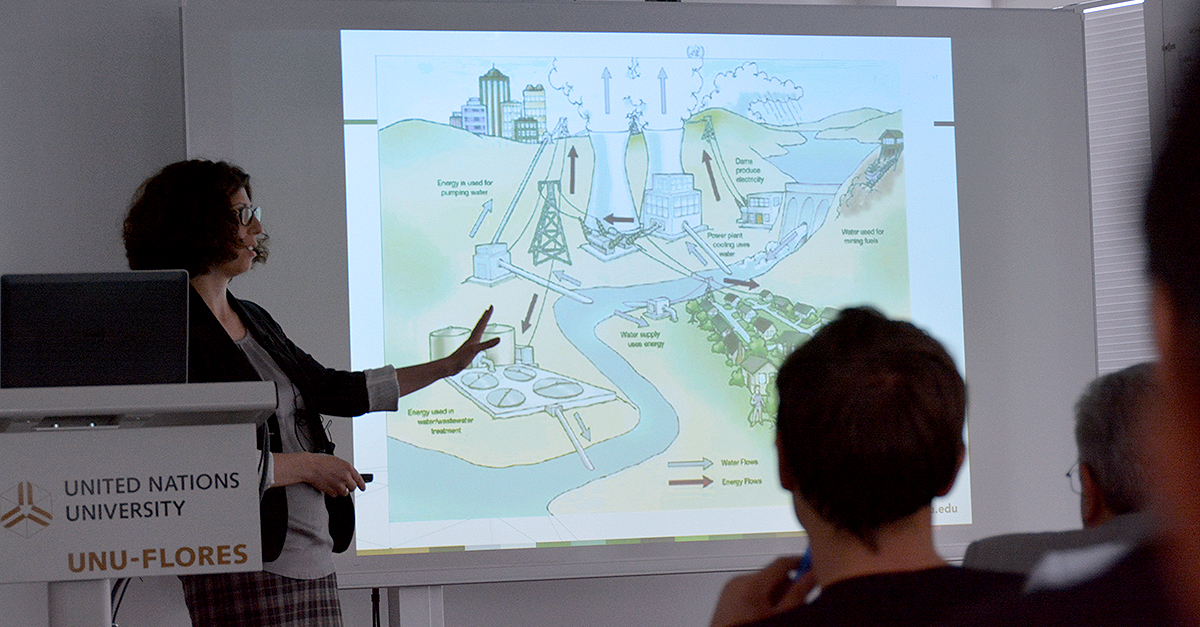 At the 12th edition of the Nexus Seminar Series on 20 June 2016, Tamara Avellán, Research Fellow at UNU-FLORES, spoke on Water in the Nexus Approach. After walking the audience through the different aspects of water within the hydrological cycle, she introduced the nexus thinking towards water resources management, distinguishing it from the established Integrated Water Resource Management (IWRM). Vis-à-vis IWRM, Avellán contextualised the Nexus Approach by embedding IWRM within it, seeing the latter as a bigger concept within which IWRM sits. Moving beyond the IWRM, the Nexus Approach requires that the interconnections/trade-offs between sectors be considered when dealing with a specific resource. It involves looking through different lenses and bringing in other players in coming up with solutions to a particular problem.
Heading the Water Resources Management unit, Avellán went on to demonstrate how her research addresses water within the resource nexus. Within the 'classic' water-energy-food nexus water is treated as an economic theme or commodity; within the water-soil-waste nexus, we think of treating water as a resource to be handled with care. At UNU-FLORES among the water-related research themes include water availability, water quality, and trade-offs be they economic, social or environmental. Through six examples from drought risk to conflict management, Avellán showed how environmental challenges may benefit from a nexus-oriented mindset. For instance, in conflict management, one could explore how a water conflict may be resolved by opening new avenues of interaction through other resources such as land, oil, etc.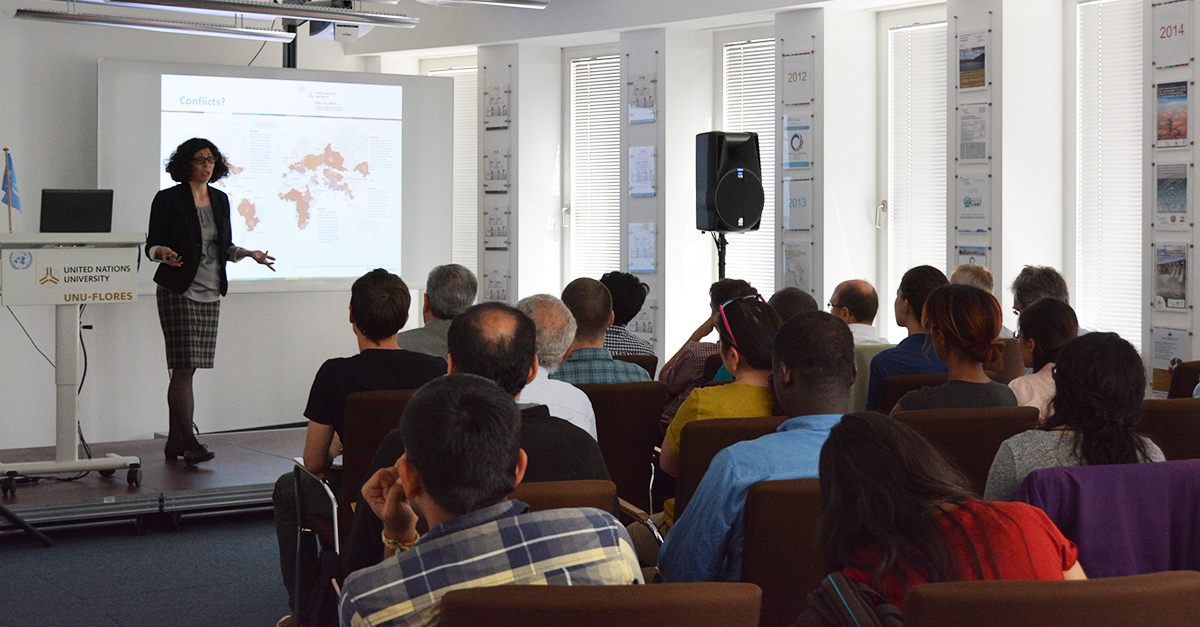 In fact, looking at historical precedents, there have been cases where strictly looking at water scarcity as a water issue sparks a conflict; but applying a Nexus mindset, which necessitates looking at other aspects brings about potential opportunity for synergies when the debate is open to include other players/commodities, looking at trade-offs, altogether making possible new levels of cooperation. This could be seen in the case of the waterway that runs through Iran, Afghanistan, and Turkmenistan. What would have otherwise been a source of conflict, by expanding the scope of discussion, becomes instead a site for cooperation.
While the Nexus Approach unleashes abundant potential in optimally managing today's environmental challenges, there remains much to be achieved in developing the concept. During the Q&A session, among the issues brought up included the need to define a new system boundary and for a focus on implementation. The prevailing science-policy divide needs to be addressed in order to ensure that science does not stop at the confines of the ivory towers but that scientific research get implemented to benefit communities.
The next Nexus Seminar on Kilimanjaro under Global Change will take place on 11 July 2016 at TU Dresden. All are welcome to join.