2017/09/11 Dresden, Germany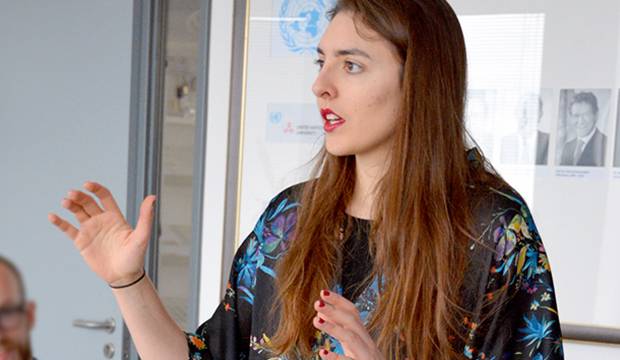 UNU-FLORES offers a rigorous internship programme giving students and recent graduates the opportunity to develop new skills and knowledge in a constructive setting for the practical application of their capacities acquired through their studies. Acquiring hands-on experience, interns work in a variety of areas from academic research, event organisation, communications and advocacy, and institutional development and administration. In this series, we feature the young brilliant minds that have played a big part in many of our activities and events. In this interview, we talked to Amélie Steu from France, who worked with the Communications and Advocacy unit.
Tell us about yourself. What is your motivation to do an internship with UNU-FLORES?
I wanted to do an internship at UNU-FLORES to better understand the workings of the very unique United Nations (UN) structure, and to better understand the UN system. Furthermore, I was deeply motivated to work in a research institute related to sustainable development, because I am deeply interested in this issue. A stint with the Communications and Advocacy Unit was the perfect opportunity for me to get a great overview of the Institute.
What are some of your day-to-day responsibilities? What types of projects do you work on? What's your favourite part of work/highlight of your internship?
During this internship, I mostly worked on tasks related to the external communication of the Institute, such as, supporting the social networks management, writing articles for the website, monitoring media coverage, managing the library, and the organisation of the Dresden Nexus Conference 2017. My favourite project was the organisation of the Exhibition Hall that took place during DNC2017: I had to create the floorplan, to prepare the materials, and to be the focal point answering the request of exhibitors, among others. This was a really exciting project!
What kind of skills do you need to be successful at your internship?
To be successful at my internship at UNU-FLORES, I had to handle tight deadlines and be able to work efficiently: these skills are crucial in event management. Being involved in the organisation of the Exhibition Hall allowed me to work on my sense of responsibility and to learn to take initiative. Finally, I also loved working within a team, and to stay open-minded with regard to working with people from different background and cultures.
What are some words of wisdom you'd give to anyone aspiring to be in your position?
I would suggest to anyone interested in communications to do an internship at UNU-FLORES! The Communications and Advocacy Unit team will welcome you warmly and make you feel a part of them; the working environment is very pleasant. They listen to your suggestions and ideas, so if you want to embark on a project, go ahead! Don't be afraid of taking initiative; you will see how much you can learn by doing so.