2019/07/17 Dresden, Germany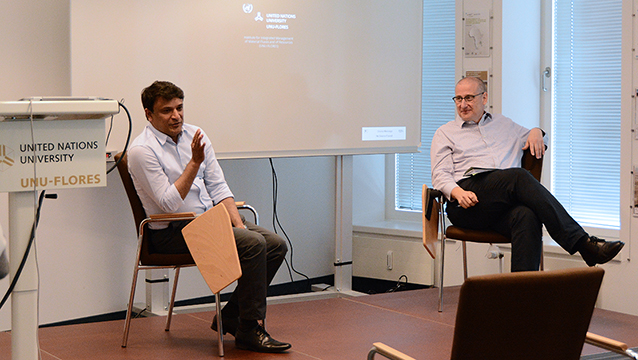 By Atiqah Fairuz Salleh, Communications and Advocacy
The achievement of the United Nations Sustainable Development Goals (SDGs) hinges upon the synergies among various stakeholders from scientists to UN agencies and the Member States. At Nexus Seminar No. 36, Dr Mathew Kurian demonstrated how a nexus-oriented approach makes it possible for siloes to be overcome – both across different resource sectors as well as across the biophysical and administrative scales.
Joined by discussant Dr Michael Krieg (School of Civil and Environmental Engineering, TU Dresden), the seminar entitled "One Swallow Does Not Make a Summer: Siloes, Trade-offs, and Synergies in the Water-Energy-Food Nexus" on 20 May 2019 sparked discussion on a range of topics related to operationalising the Nexus Approach.
Basing the seminar on his recent publication, Dr Kurian, Head of the Capacity Development and Governance unit at UNU-FLORES, explained how policy engagement amplifies the applications of the Nexus Approach in global public goods research. In his paper, he critically examined a UN-Water directive on SDG target 6.3 and advocated for an enhanced understanding of factors for wastewater use, considering local conditions.
The blind spot, however, is the policy engagement itself.
Walking the audience through the scientist's dilemma, Dr Kurian shared what scientists are already doing, and the strategies they have taken: consult stakeholders early in project design, assemble multidisciplinary teams of researchers, use qualitative and quantitative methods, and then assemble data.
Taking a step further, one's ability to influence the vision of policy with one's research is one of the highest levels of impact one could achieve. Dr Kurian explored the concept of policy engagement and illustrated how it translates into the work at UNU-FLORES.
For instance, beyond the outputs in the form of journal publications, research impact can take the form of two other possible outcomes. First, it could be the opportunity to plug in policy-relevant research to support the implementation of a governmental project, and second, to contribute to a vision document of a ministry. One example is the project "Monitoring Sustainability of Rural Water Supplies in Sub-Saharan Africa" undertaken by PhD Researcher Sekela Twisa at UNU-FLORES and TU Dresden. The Joint PhD Programme is an opportunity to further increase engagement with other UN agencies, ministries, and other stakeholders.
For that to happen, it is important to understand the conceptual basis of policy science. The basis of policy engagement very much lies in the framing. Overcoming this challenge requires us to understand the policy process. We would then be better able to acknowledge the role of siloes, trade-offs, and synergies in environmental planning and management and allow for the scrutiny of what it means to work across siloes.
According to Dr Kurian, the Nexus Approach goes beyond the integrated management of water, soil, and waste – it is about achieving a balance between the biophysical and administrative scales. A Nexus Approach allows for the forging of the concepts of trade-offs and synergies, drawing out coupled perspectives of biophysical and institutional dimensions of the interactions between water, energy, and food.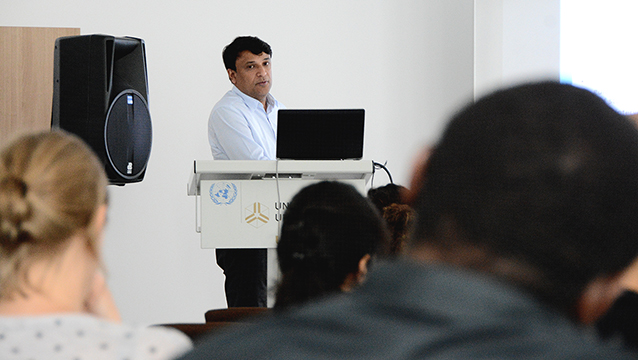 There are vast benefits to be achieved through synergies. By coordinating various stakeholders, we are better able to ensure coherence between global norms and indicators (UN), policy instruments (Member States), and consumer perceptions, for example, on the use of wastewater and how much the services should cost.
Dr Kurian advocates for knowledge translation tools such as place-based observatories as a mechanism to facilitate synthesis and feedback to support decision-making. Such tools make information usable. In particular, open-source modelling platforms promote the reuse of data and co-curation of research questions. Over time, we accumulate a reservoir of knowledge.
Responding to Dr Kurian's theoretical insights derived from an agent-based modelling approach, Dr Krieg went on to share several personal anecdotes in his experience from bridging different sectors and disciplines. Recognising the need to consider the interplay of very different spheres – from science and business to policy – he highlighted the necessity of bringing partners in early to co-create.
The world is becoming increasingly specialised yet at the same time increasingly connected; the challenge is to find the intricate balance between the two.
Dr Krieg cited the example of actors in humanitarian aid where coordination across fleet movement has been found to be exemplary. Procurement, costs, and deployment work seamlessly to ensure that targets are achieved.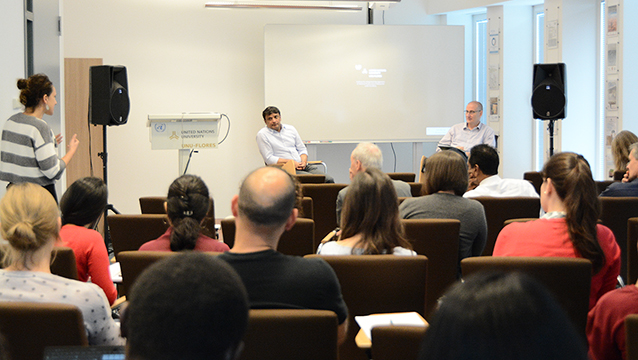 In the lively Q&A session that followed, many concerns were raised regarding the Nexus Approach and its true value. Dr Kurian shared that in his experience, the Nexus Approach had been a determining factor for his contribution to science and practice.
"There is, at times, no alignment between decisions made at the ministry scale and the basin scale. We need to bridge that gap, and so, we need processes that capture the interplay between biophysical and social scales," Dr Mathew Kurian.
The joint seminar series, launched in 2015, features lectures by senior scholars that highlight all dimensions of research on the Nexus Approach, ranging from hands-on implementation strategies to theoretical debates. The Nexus Seminars serve not only as a platform for scientific exchange and cooperation between UNU-FLORES and TU Dresden but also a medium for the partner institutions to discuss their research with a broader audience.
Reference
Kurian, Mathew, Scott, Christopher A., Reddy, V. Ratna, Alabaster, Graham, Nardocci, Adelaide, Portney, Kent E., Boer, Rizaldi, and Hannibal, Bryce. 2019. "One Swallow Does Not Make a Summer: Siloes, Trade-Offs and Synergies in the Water-Energy-Food Nexus". frontiers in Environmental Science, 7(32), 1–17. (Available here)