2014/03/12 Maputo, Mozambique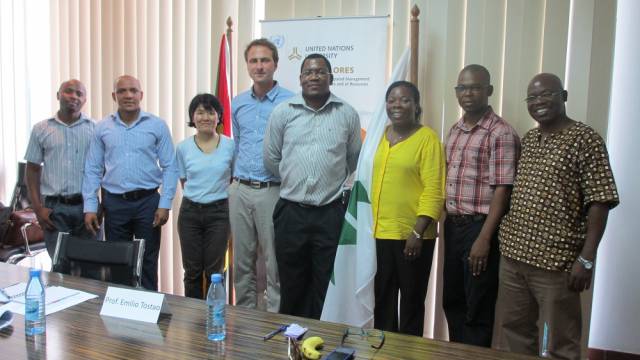 On March 6th and 7th,  a workshop on a proposed project on the effects of climate, land use and urbanization on water resources in the city of Beira took place in the capital of Mozambique, Maputo. The workshop was jointly organized by UNU-FLORES, the Universidade Eduardo Mondlane (UEM) and the Water Research Institute of the Ministry of Science and Technology of Mozambique (MCT), in cooperation with the Universidade Catуlica de Moзambique (UCM-CIG).
At the workshop, researchers from UEM and UCM-CIG as well as experts from the MCT-Water Research Institute and the UN Development Programme (UNDP) discussed and agreed upon the structure and approach of a new project in Beira, which is considered to be among the cities most affected by climate change in Africa. The project aims at addressing the effects of bio-physical and socio-economic factors such as land cover and land use, urbanization and others, including soils and sanitation systems, on water resources throughout the year in challenging climate and environmental conditions. The project is also intended to contribute to ongoing and future climate adaptation management plans and activities.
The Beira project will be one of the first initiatives of the UNU-FLORES Operating Unit, which will be established in Maputo in 2014. The main goal of the Operating Unit will be the promotion of a nexus approach to the integrated management of the environmental resources water, soil and waste in Africa.