2019/07/04 Dresden, Germany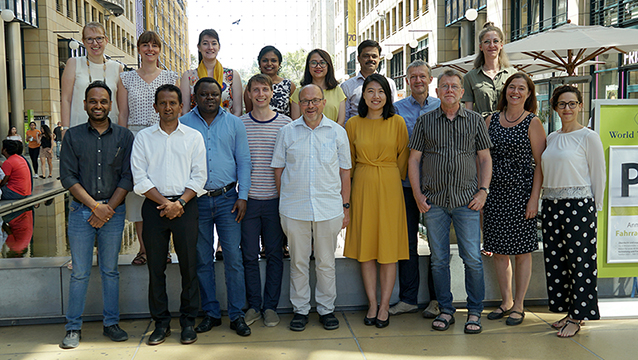 By Robert Culligan, Communications and Advocacy
On 25 June 2019, UNU-FLORES and Technische Universität Dresden held their annual joint PhD Symposium on the UNU-FLORES premise in World Trade Center Dresden. At the symposium, current students of the Joint PhD Programme in Integrated Management of Water, Soil, and Waste presented their progress on their respective research projects.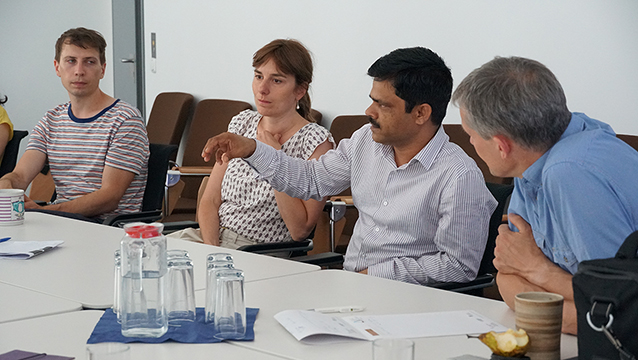 Running in its fourth year, the PhD programme aims at creating a new generation of environmental scientists, engineers, and managers to conduct, promote, and provide guidance on the sustainable management of water, soil, and waste. It is designed to provide candidates with the critical understanding and skills to take an interdisciplinary approach within their respective research topics.
The PhD Symposium offers an opportunity for the eight PhD candidates currently carrying out vital research in the sustainable management of environmental resources to evaluate their progress to date.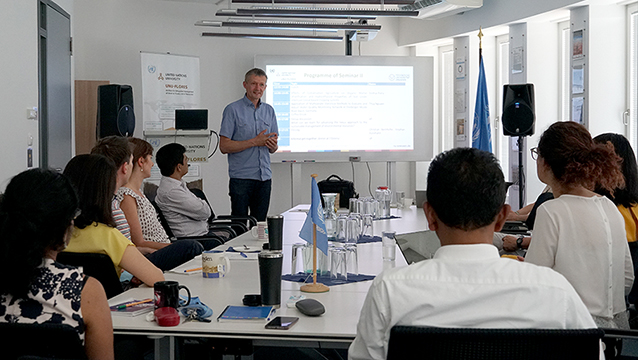 Dr Stephan Huelsmann, who leads the Systems and Flux Analysis considering Global Change Assessment unit and coordinates the PhD programme at UNU-FLORES, opened the symposium together with Prof. Christian Bernhofer, chair of Meteorology and focal point for the programme at TU Dresden, by welcoming attendees and outlining the order of business for the day.
PhD researchers were each given 45 minutes to present and discuss their dissertation research topics that are as follows:
| | |
| --- | --- |
| PhD Candidate | Dissertation Research |
| Andrea Müller | Decision Support Framework for Water Reuse in Water-Scarce Regions Involving Sustainability and Risk Assessments |
| Anika Reetsch | Integration of Organic Farm Waste into the Biomass Production of Degraded and Recovered Smallholder Banana-Coffee-based Farming Systems in the Kagera-Region, NW Tanzania |
| Janis Kreiselmeier | Quantification of Soil Pore Dynamics Through Periodic Field and Laboratory Measurements |
| Parvathy Chandrasekhar | Modelling the Temporal Dynamics of Soil Hydraulic Properties Following Agricultural Management Practices |
| Agossou Gadedjisso-Tossou | Impact of Soil and Climate Variability on Crop Water Productivity and Food Security of Irrigated Agriculture in West Africa |
| Sridhar Patra | Effects of Conservation Agriculture on Organic Matter Stratification and Hydro-Physical Properties of Soil Under Intensive Cereal-Based Cropping Systems |
| Thuy Nguyen | Application of Multivariate Statistical Methods to Evaluate and Adjust Water Quality Monitoring Network in Freiberger Mulde River Basin, Germany |
After the conclusion of the presentations, a group discussion ensued on what we can learn for advancing the Nexus Approach to the sustainable management of environmental resources.
Since its inception, two individuals – Dr Solomon Gebrechorkos and Dr Mahesh Jampani – have graduated from the joint PhD programme of UNU-FLORES and TU Dresden.
The full-day symposium culminated with a group dinner in the evening.
The next application window for the Joint PhD Programme in Integrated Management of Water, Soil, and Waste will open soon. Stay tuned.