2016/09/01 Stockholm, Sweden
Reporting by Rachel Shindelar, Communications and Advocacy
On its own, wastewater is already a valuable resource. It is rich in carbon and nutrients that, if captured, can be used to improve human and ecosystem health, reduce greenhouse gas emissions, and improve food and energy security. In the twenty-first century – with population growth, rapid urbanisation, increasingly water-intense consumption patterns and climate change – wastewater has never been such an important and valuable resource.
But there is a safe use, and there is a risky use. Knowing the difference is key.
At World Water Week 2016, UNU-FLORES organised a variety of activities focusing on recognising and using wastewater as a resource safely. In two seminars and a book launch, UNU-FLORES joined forces with a number of partners to look at wastewater from different angles.
Wastewater Reuse for Enhanced Value Chains
The session "Wastewater Reuse for Enhanced Food and Non-Food Value Chains" looked at the opportunities for using wastewater within multifunctional land-use systems in urban transition zones in Sub-Saharan Africa. UNU-FLORES co-convened the session with the Center for Environmental Systems Research (CESR) of University of Kassel, the German Development Institute (DIE-GDI), the Food and Agriculture Organization of the United Nations (FAO), and the United Nations Environment Programme (UNEP).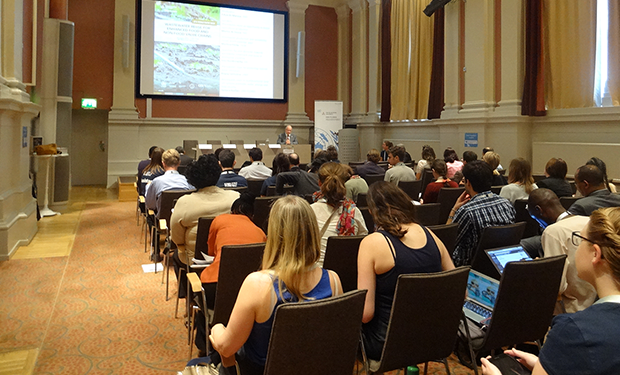 In multifunctional land-use systems, the intent is to reuse water for irrigation and nutrient supply. Speakers drew attention to the impact such practices have both on costs and demand in freshwater and fertilisers. Such aspects are particularly important for small-holder farmers – the majority of users in urban transition zones in Sub-Saharan Africa.
Besides directly contributing to food and energy security, multifunctional land-use systems can benefit development in the region through reducing the removal and collection of biomass for heating and cooking. This can contribute to sustaining soil fertility and soil-related ecosystem services.
Using wastewater in this way can provide opportunities to enhance and develop value chains of all of agricultural products, such as food crops, energy crops, energy from wastewater, and so on. During the session it was emphasised, however, that hygienic as well as environmental aspects must receive appropriate consideration. This requires capacity development tools and opportunities on multiple levels. In return such an approach would address major issues of the Sustainable Development Goals.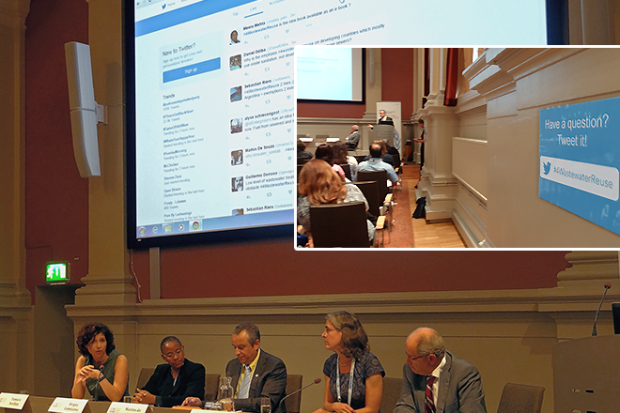 After brief statements from Marlos De Souza (FAO), Ines Drombrowsky (DIE-GDI), Birguy Lamizana (UNEP), and Tamara Avellán (UNU-FLORES), the moderator, Mr. Eduardo Mansur (FAO), collected questions and comments via a live twitter stream (#4WastewaterReuse). Intrigued by the methods and systems promoted by the speakers, the audience was particularly interested in knowing more about financing mechanisms and constraints.  In particular, the interest and desire for more knowledge sharing mechanisms was expressed.
Safe Use of Wastewater in Agriculture
Increasing opportunities for capacity development was the motivation behind UNU-FLORES's new book Safe Use of Wastewater in Agriculture: Good Practice Examples launched directly following the abovementioned session.
Today, more than 20 million hectares of land are irrigated with wastewater. However, much of this practice is not based on any scientific criteria ensuring the safe use of the wastewater. The new book will be a useful resource for national governments interested in learning from existing ventures.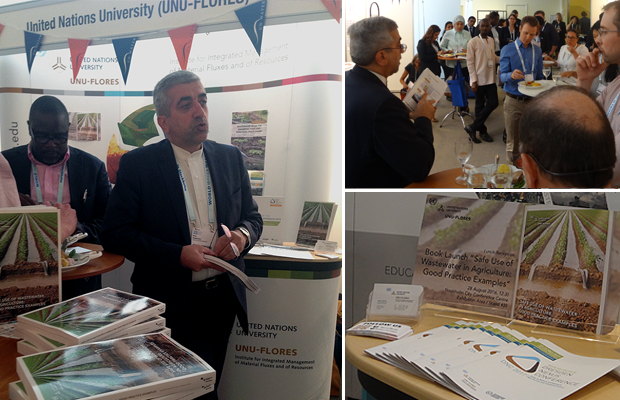 "A sound understanding of the opportunities and potential risks must be the base for any use of wastewater. In order to address the technical, institutional, and policy challenges of safe water reuse, developing countries and countries in transition need clear institutional arrangements."
– UNU-FLORES Director Reza Ardakanian
Under the umbrella of the Safe Use of Wastewater in Agriculture Initiative, UNU-FLORES identified 17 interesting case studies from around the world in 2015 exemplifying the practice of wastewater use in agriculture. The aim of the editors is to enhance not only north-south but also south-south knowledge sharing.
Using Wastewater Efficiently to Protect the Environment and Combat Poverty
Building on the discussions of the first seminar, the afternoon session convened by UNU-FLORES and UNEP highlighted the value of wastewater as a resource for food production (irrigation, fertilisation), employment, and electricity generation. It focused on the role of wastewater in implementing Integrated Water Resource Management approaches in developing countries.
The session began with a presentation from Stephan Uhlenbrook (UNESCO World Water Assessment Programme), who discussed the connection to the implementation of the SDG 6, Target 6.3. This was followed by presentations from actors working on wastewater-related projects in Cabo Verde, Mauritius, Georgia, and Morocco, under the Umbrella of the "UNEP/UNDP/GEF Atlantic and Indian Ocean SIDS Integrated Water Resources Management Project". Wrapping up the session, UNU-FLORES Director, Reza Ardakanian, outlined the research and education landscape in the field. Looking at cases implemented by a wide range of agencies and involving different sectors of activities around the world, the conveners aimed to pave the way for creating new synergies, partnerships, and avenues for exchange of experiences.
#UNU4Water
Besides convening the aforementioned sessions and launching a new book, UNU-FLORES represented the United Nations University in the World Water Week Exhibition. Water is a common theme across many Institutes in the UN University. Under the slogan #UNU4Water, UNU-FLORES showcased the various projects and publications focusing on this theme from the University as a whole.