DATE / TIME:

2022/10/17 14:50 - 16:20

Location:

Online
Lecturer:

Prof. Chrysi Laspidou, Professor, Civil Engineering Department, University of Thessaly in Greece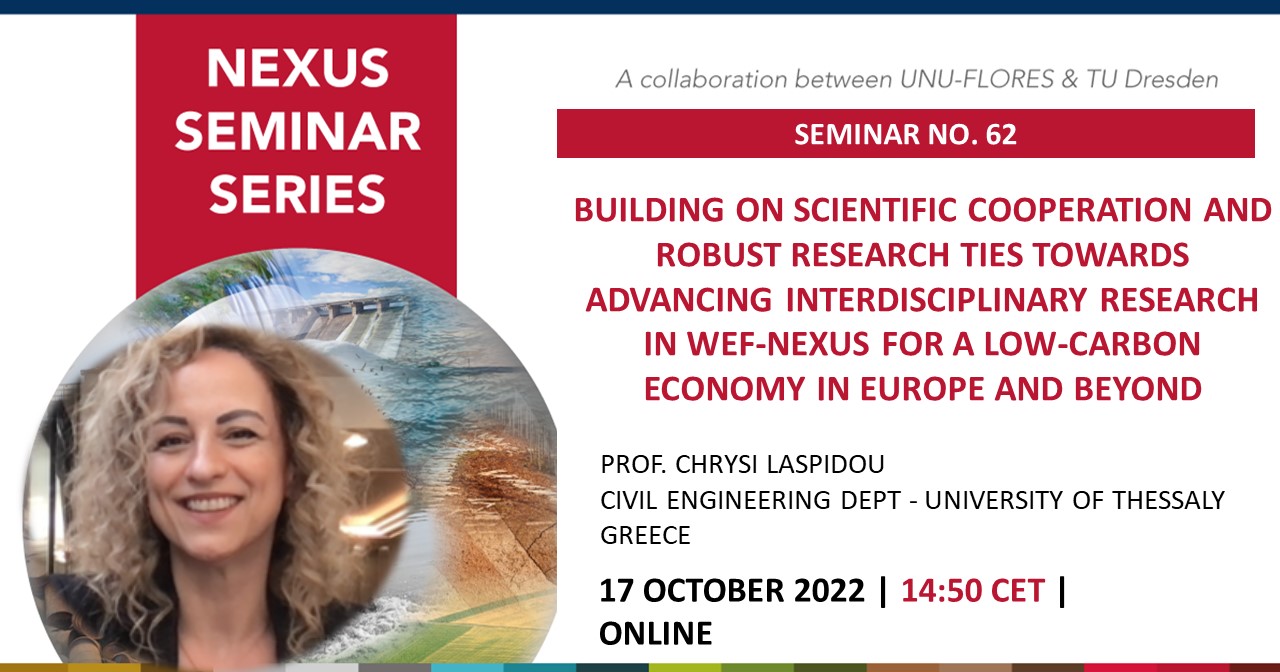 Innovation emerges where strong collaborations, extensive synergies and creative research networks are fostered. Nexus action builds on scientific cooperation and robust research ties towards advancing excellence, interdisciplinary research, and young researchers'/innovators' empowerment. Providing decision-makers with the multifaceted knowledge needed to seize all opportunities to enhance synergies and minimize trade-offs is a significant objective for Nexus research. The Seminar will address how the Nexus knowledge is fundamental and how its translation for the private sector and policymakers can enhance its applicability in Europe and beyond. New trends/approaches on the Nexus implementation within the Biodiversity of natural ecosystems will be presented.
Bio
Chrysi Laspidou is a Professor at the Civil Engineering Department, University of Thessaly in Greece. She is Vice-President of Research and Technology at Water Europe and a member of the Steering Committee of the Water-Energy-Food Nexus Knowledge Action Network at Future Earth, the Chair of the COST Action NEXUSNET and the coordinator of the H2020 project ARSINOE. She has published over 60 articles in scientific journals and conference proceedings and is actively involved either as a Coordinator or as a Principal Investigator in research projects funded by the European Commission or national sources.
---
Nexus Seminar Series
UNU-FLORES, in collaboration with PRISMA – Centre for Sustainability Assessment and Policy on behalf of TU Dresden, is delighted to present the Nexus Seminar Series. The joint seminar series, which launched in 2015, features lectures by senior scholars and successful practitioners that highlight all dimensions of research on the Nexus Approach, ranging from hands-on implementation strategies to theoretical debates. The Nexus Seminars serve not only as a platform for scientific exchange and cooperation between UNU-FLORES and TU Dresden but also as a medium for the partner institutions to discuss their research with a broader audience.
The Nexus Seminar, which takes place monthly during the academic semester, is open to the public and delivered in a digital format through online webinars.