DATE / TIME:

2022/07/18 14:50 - 16:20

Location:

Online
Lecturer: Prof. Kaveh Madani, Head of Nexus Research Programme, UNU-FLORES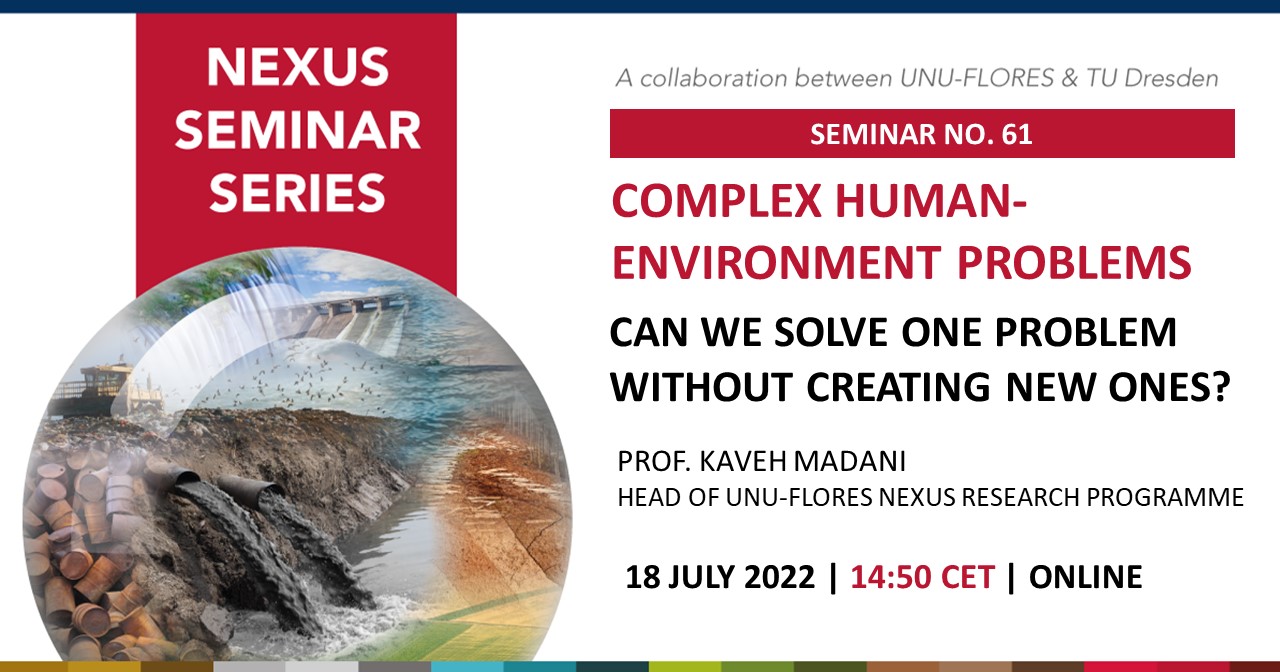 Coupled human-environment systems are characterised by uncertainty, limited predictability, bounded rationality, indeterminate causality, and evolutionary change. To determine the impact of specific policy intervention, an integrated analysis approach is needed that provides a holistic view of complex interactions within such systems. In this talk, Kaveh Madani highlights some of the major challenges of modelling and managing complex human-environment systems to argue why we often fail to develop comprehensive technological and policy solutions that can solve one problem without creating new ones.
Bio
Prof. Kaveh Madani is a globally recognised environmental scientist, educator, and activist, working on complex human-natural systems at the interface of science, policy, and society. He is currently the Head of Research Programme on integrated resources management at UNU-FLORES and a Research Professor at the City University of New York's Remote Sensing Earth Systems Institute (CUNY CREST).
He has previously served as the Deputy Head of Iran's Department of Environment, Vice President of the UN Environment Assembly Bureau, and Chief of Iran's Department of Environment's International Affairs and Conventions Center. He held different strategic roles during his public service and led Iran's delegation in different major intergovernmental summits, including the COP23 climate change negotiations. Before public service, he was a tenured faculty member of the Centre for Environmental Policy at Imperial College London.
Please find Prof, Madani's full bio here.
---
Nexus Seminar Series
UNU-FLORES, in collaboration with PRISMA – Centre for Sustainability Assessment and Policy on behalf of TU Dresden, is delighted to present the Nexus Seminar Series. The joint seminar series, which launched in 2015, features lectures by senior scholars and successful practitioners that highlight all dimensions of research on the Nexus Approach, ranging from hands-on implementation strategies to theoretical debates. The Nexus Seminars serve not only as a platform for scientific exchange and cooperation between UNU-FLORES and TU Dresden but also as a medium for the partner institutions to discuss their research with a broader audience.
The seminars are open to the public and, during the academic semester, are held once a month. Under the current circumstances, the Nexus Seminar Series takes the digital form through online webinars.