DATE / TIME:

2023/01/16 14:50 - 16:20

Location:

Online
Lecturer: Dr

 Ilka Weissbrod, Strategic Research Partner, Technische Universität Dresden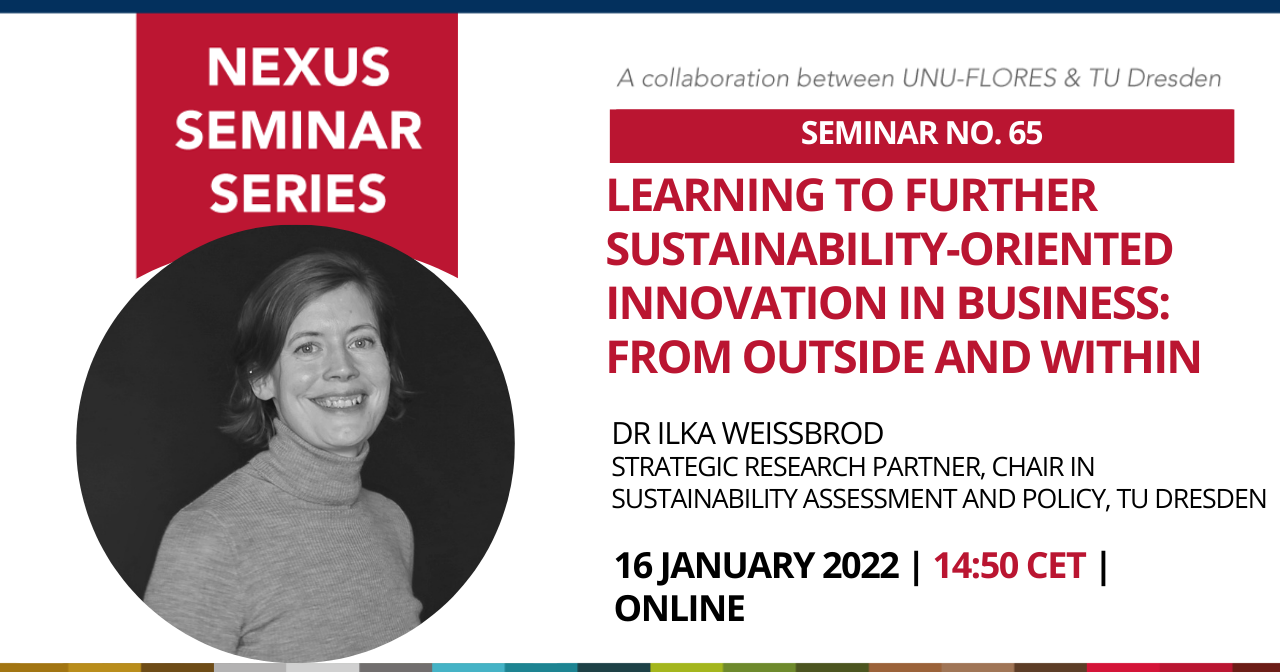 Mounting sustainability pressures challenge established businesses to engage with innovation for sustainability. Yet transformation activities of existing innovation processes fall short of initially set out sustainability goals and ambitions. Irrespective of the business sector, there are promising ways to close the gap between sustainability goals and innovation processes. This talk covers three examples, all based on empirical research. Firstly, alliance learning as an outside-in approach; secondly, experimentation for sustainability within the business and, perhaps most impactful but hardest to quantify and formalize in innovation processes: evolving personal belief systems.
Bio
Ilka Weissbrod is a Strategic Research Partner at the TUD, where she works on the impact of sustainable innovation processes with the Chair for Sustainability Assessment and Policy. She holds a PhD from Imperial College London and was Postdoc and now teaches at the Leuphana University of Lüneburg. Her research is informed by and building on practice experience mainly gained in advisory roles in the UK and DACH. Ilka focuses on innovation management and conducts qualitative enquiries on business experimentation for sustainability, the operationalization of a Circular Economy, and sustainability-oriented innovation.
---
Nexus Seminar Series
UNU-FLORES, in collaboration with PRISMA – Centre for Sustainability Assessment and Policy on behalf of TU Dresden, is delighted to present the Nexus Seminar Series. The joint seminar series, which launched in 2015, features lectures by senior scholars and successful practitioners that highlight all dimensions of research on the Nexus Approach, ranging from hands-on implementation strategies to theoretical debates. The Nexus Seminars serve not only as a platform for scientific exchange and cooperation between UNU-FLORES and TU Dresden but also as a medium for the partner institutions to discuss their research with a broader audience.
The Nexus Seminar, which takes place monthly during the academic semester, is open to the public and delivered in a digital format through online webinars.