DATE / TIME:

2021/11/15 14:50 - 16:20

Location:

Online
Lecturer: Dr Catalin Stefan, Technische Universität Dresden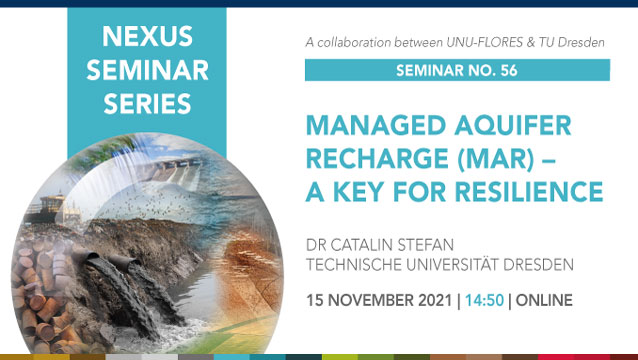 The concept of managed aquifer recharge (MAR) includes a bundle of nature-inspired interventions applied for storing surplus water in the aquifers and subsequently enabling its multi-purpose use. Evidence of successful implementation shows the suitability of MAR for different environmental, socio-cultural and economic conditions.
In contrast to conventional surface reservoirs, storing the water underground has, e.g., a much smaller environmental footprint, requires less space, can be applied inside urban areas, is less prone to pollution, assures significant reduction of evaporation, facilitates water purification etc. The enhanced replenishment of the aquifers through MAR contributes to climate change adaptation by safeguarding water availability for various ecological and human uses.
The seminar will provide an overview of the most relevant aspects of the application of managed aquifer recharge, including technical concepts, application fields, associated risks, research opportunities, and several international examples.
Bio
Dr Catalin Stefan is Head of the Research Group INOWAS ("Innovative Groundwater Solutions") at TU Dresden. He is a Co-Chair of the Commission on Managing Aquifer Recharge of the International Association of Hydrogeologists (IAH) and a member of Groundwater Solutions Initiative for Policy and Practice. His expertise includes planning, assessing, and optimising managed aquifer recharge applications using physical models and computer-based simulations (the INOWAS group developed a free, fully web-based groundwater modelling platform). Dr Stefan is the initiator and co-author of the Global MAR Portal, an inventory of over 1000 MAR case studies.
---
Nexus Seminar Series
UNU-FLORES, in collaboration with PRISMA – Centre for Sustainability Assessment and Policy on behalf of TU Dresden, is delighted to present the Nexus Seminar Series. The joint seminar series, which launched in 2015, features lectures by senior scholars and successful practitioners that highlight all dimensions of research on the Nexus Approach, ranging from hands-on implementation strategies to theoretical debates. The Nexus Seminars serve not only as a platform for scientific exchange and cooperation between UNU-FLORES and TU Dresden but also as a medium for the partner institutions to discuss their research with a broader audience.
Taking place once a month, each seminar is open to the public and under the current circumstances will be delivered via a virtual Zoom video conference.