DATE / TIME:

2023/04/17 14:50 - 16:20
"You may choose to look the other way, but you can never say again that you did not know"
– William Wilberforce, Abolitionist
Modern slavery is a topic that is increasingly gaining global attention. From a business perspective, modern slavery can refer to forced labour, bonded labour (also referred to as debt bondage), some of the worst forms of child labour, and human trafficking. Current estimates suggest there are more than 50 million people enslaved worldwide, with more than 20 million of these victims trapped in forced labour in corporate supply chains. As a result, many of the goods we use every day are effectively tainted; bringing modern slavery much closer than we think. A growing number of legislative developments worldwide are starting to hold businesses accountable for modern slavery risks – both in their direct operations and in supply chains. However, addressing modern slavery presents significant challenges for business. This lecture will provide a detailed overview of modern slavery and how it impacts business organisations. It will consider the management and reporting challenges faced by businesses, where research can help, and why each of us has a role to play in ending modern slavery for good.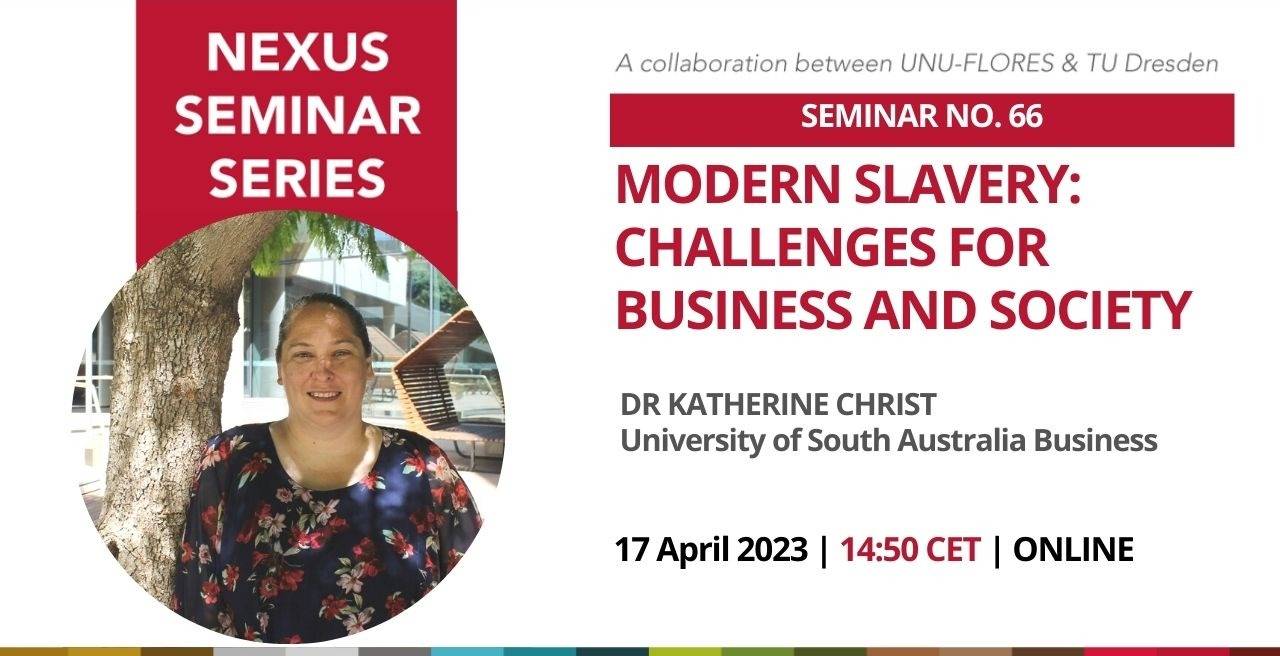 About this Session's Speaker: Dr Katherine Christ – University of South Australia 
Dr Katherine Christ is a Senior Lecturer in Accounting at UniSA Business. She is an expert in accounting for modern slavery risk in business operations and supply chains, and recently founded the South Australian Modern Slavery Network. Katherine has received funding from CPA Australia and AFAANZ for her research into modern slavery, and was a nominee for a 2021 Themis Financial Crime Prevention Award in the category of Combating Modern Slavery. She has published widely on the topic of modern slavery and sustainability accounting more generally, and regularly contributes to mainstream media on her areas of interest.
Background of the Event:
UNU-FLORES in collaboration with PRISMA – Centre for Sustainability Assessment and Policy on behalf of TU Dresden are excited to announce the Nexus Seminar Series. The joint seminar series, which launched in 2015, features lectures by senior scholars and successful practitioners that highlight all dimensions of research on the Nexus Approach, ranging from hands-on implementation strategies to theoretical debates. The Nexus Seminars serve not only as a platform for scientific exchange and cooperation between UNU-FLORES and TU Dresden but also a medium for the partner institutions to discuss their research with a broader audience.   The Nexus Seminar, which takes place monthly during the academic semester, is open to the public and delivered in a digital format through online webinars.