DATE / TIME:

2023/05/15 14:50 - 16:20
Floods and droughts have major impacts on communities, economies and ecosystems, and those impacts are increasing, particularly in developing countries. The magnitude and frequency of droughts and floods are rising under climate change, and a growing population is becoming more exposed to these hazards – with the most vulnerable people (particularly women) often being most affected. Loss of life, diminished productivity, and asset destruction lead to weakened livelihoods and poverty.
As global economic interdependence grows, climate and disaster-related impacts in developing countries will be felt far beyond their borders. This increasing level of exposure prompts us to consider the current approaches of dealing with drought and flood impacts. Only integrated approaches to increase resilience against these hydro-extremes can bring the needed systemic changes because of the complexity of their impacts. In this session, the joint flood (APFM) and drought (IDMP) programs of the World Meteorological Organization and Global Water Partnership (GWP) will be introduced, and an overview of ongoing efforts to increase flood and drought resilience globally will be presented and discussed.
About the Speaker: Dr Valentin Aich – Senior Water and Climate Specialist at the Global Water Partnership and World Meteorological Organization
Valentin Aich joined the Global Water Partnership (GWP) as a Senior Water and Climate Specialist in 2020; he was seconded to the World Meteorological Organization (WMO), where he is works for the Technical Support Unit of the joint flood (APFM) and drought (IDMP) programs of both organizations, as well as coordinating other joint activities. Previously Valentin was Associate Scientific Officer with the Global Climate Observing System (GCOS) of WMO. Before joining WMO, Valentin worked for 2 years as Climate Change Adaptation Specialist for UNEP in Afghanistan. He is guest scientist with the Potsdam Institute of Climate Impact Research (PIK) where he has conducted researched for the past 9 years with a focus on hydroclimatic extremes, and where he has written his PhD thesis about floods in the Niger basin.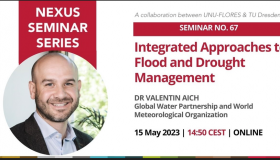 Background of the Event:
UNU-FLORES in collaboration with PRISMA – Centre for Sustainability Assessment and Policy on behalf of TU Dresden are excited to announce the Nexus Seminar Series. The joint seminar series, which launched in 2015, features lectures by senior scholars and successful practitioners that highlight all dimensions of research on the Nexus Approach, ranging from hands-on implementation strategies to theoretical debates. The Nexus Seminars serve not only as a platform for scientific exchange and cooperation between UNU-FLORES and TU Dresden but also a medium for the partner institutions to discuss their research with a broader audience.   The Nexus Seminar, which takes place monthly during the academic semester, is open to the public and delivered in a digital format through online webinars.
Register here