DATE / TIME:

2023/06/19 14:50 - 16:20
The growth-dependent global economy is driving the over-consumption of natural resources such as water, energy and food worldwide, especially in cities. This, in turn, is driving environmental degradation and speeding up the negative effects of climate change. Climate change has been a known fact since the 1960s, yet climate action is extraordinarily slow. Innovative approaches to enable sustainable urban transformation pathways supporting a systemic socio-technical revolution and a shift to a more circular economy are urgently needed.
TUM makes a targeted contribution to solving this issue through its Nexus@TUM research and teaching agenda, focusing on expanding on the Water-Energy-Food (WEF) Nexus topic. Nexus@TUM highlights how the integrated planning of water, energy, food, and inter-related sectors, including ecosystem services, can enable more efficient resource use, thus reducing GHG emissions and augmenting climate change adaptation. Thus, the Nexus approach can enhance water, energy and food security. In its action- and solution-oriented transdisciplinary approach, the initiative targets resource-stressed metropolitan regions in Africa and Asia. Nexus@TUM builds on an environmental engineering perspective by integrating social, institutional, legal, political, and economic aspects. Nexus@TUM further acknowledges that the issue at hand pertains equally to contexts in developing as in developed economies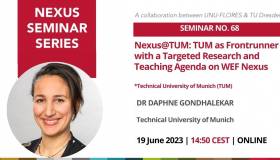 About the Speaker: Dr Daphne Gondhalekar 
Dr Daphne Gondhalekar is an urban planner and research scientist at the Chair of Urban Water Systems Engineering, Technical University of Munich, Germany. Her research focus is integrated urban planning, Water-Energy-Food Nexus, and multi-stakeholder processes in Africa and Asia. She holds a PhD in Urban Planning from The University of Tokyo, an M.Sc. in Architecture and Urban Design from ETH Zurich, and a B.Arch. (Hons.) in Architecture from the University of Glasgow. Prior to joining TUM, she worked as a Postdoctoral Associate at the Department of Urban Studies and Planning at Massachusetts Institute of Technology (MIT), USA and as a Senior Researcher at the Center for Development Research (ZEF), University of Bonn, Germany.
Register for the event here
Background of the Series
UNU-FLORES in collaboration with PRISMA – Centre for Sustainability Assessment and Policy on behalf of TU Dresden are excited to announce the Nexus Seminar Series. The joint seminar series, which launched in 2015, features lectures by senior scholars and successful practitioners that highlight all dimensions of research on the Nexus Approach, ranging from hands-on implementation strategies to theoretical debates. The Nexus Seminars serve not only as a platform for scientific exchange and cooperation between UNU-FLORES and TU Dresden but also a medium for the partner institutions to discuss their research with a broader audience.   The Nexus Seminar, which takes place monthly during the academic semester, is open to the public and delivered in a digital format through online webinars.