DATE / TIME:

2021/01/18 14:50 - 16:20

Location:

Online
Lecturer: Prof. Markus Vogt, Chair of Christian Social Ethic, Ludwig-Maximilians-Universität München (LMU Munich)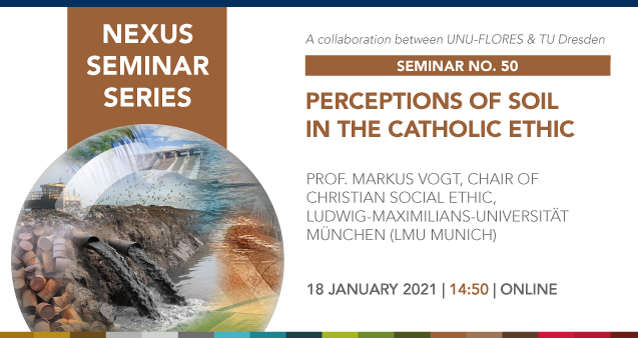 In times of climate change, population growth, and international land speculation, soil conservation has a special importance for sustainable development not only in Germany but all over the world. It is a central field of enquiry for contemporary responsibility for creation, because of the indispensable provisions that fertile farmland has not only for human nutrition but also for the whole network of living processes and biodiversity. These functions are actually endangered worldwide by a creeping process of soil degradation. Against this background, the presentation postulates a paradigm shift towards nature-compatible agriculture and area planning, a shift that touches upon some aspects of agricultural policy, development cooperation, and consumption habits. This debate exhibits a substantial religious and cultural dimension: What we need is a re-centering on the grand narratives of anthropology and the perception of nature as well as culture and technology, in order to allow us to cope with the challenges of today's life. It is based on this narrative and anthropological integration that constitutes the surplus value of Christian theology of creation compared with the secular ethics of nature. The presentation sketches "ten commandments" of Christian environmental ethics for soil protection.
To join the event, please register here.
Bio
Prof. Markus Vogt was born in 1962 in Freiburg, Germany and studied philosophy and theology in Munich, Jerusalem in Israel, and Luzern in Switzerland. From 1998 to 2007, he was head of the institute for church and environment and coordinated the working group for environmental issues of the European Council of the Catholic Bishops' Conference (CCEE). Since 2007, he is the Chair for Christian Social Ethics at the Ludwig-Maximilians-Universität München. Since 2011, he is Permanent Fellow at the Rachel Carson Center for Environment and Society.
---
Nexus Seminar Series
UNU-FLORES, in collaboration with PRISMA – Centre for Sustainability Assessment and Policy on behalf of TU Dresden, is delighted to present the Nexus Seminar Series. The joint seminar series, which launched in 2015, features lectures by senior scholars that highlight all dimensions of research on the Nexus Approach, ranging from hands-on implementation strategies to theoretical debates. The Nexus Seminars serve not only as a platform for scientific exchange and cooperation between UNU-FLORES and TU Dresden but also a medium for the partner institutions to discuss their research with a broader audience.
Taking place once a month, each seminar is open to the public and under the current circumstances will be delivered via a virtual Zoom videoconference.
Please find all past Nexus Seminars here.