DATE / TIME:

2022/05/16 14:50 - 16:20

Location:

Online
Lecturer: Prof. Anna-Luisa Stöber, Macromedia University of Applied Sciences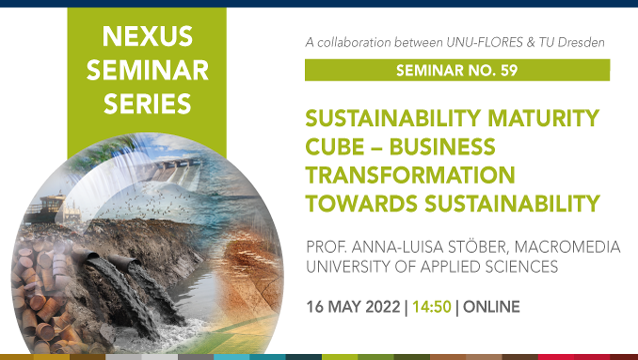 Sustainability is achieved through a continuous process rather than a single action, suggesting that decision-makers need the means to analyse the current state of an organisation. This lecture will explain how companies can structure a field of action to transform it into sustainability.
It proposes a decision-making model for determining how sustainability activities should be implemented according to a value-based management paradigm, considering economic effects. In particular, the application of the approach is illustrated using the example of medium-sized enterprises in Germany.
Bio
Prof. Anna-Luisa Stöber is a Professor of Business Management at the Macromedia University of Applied Sciences and Local Head of the Faculty for Business, Technology and Design. She worked at BMW Group in several functions for seven years. Her latest assignment is Team Lead Governance for BMW Group Experiential Marketing.
Prof. Stöber has a PhD in business information systems and studied Finance and Information Management at the Technical University of Munich (TUM) and the University of Augsburg.
---
Nexus Seminar Series
UNU-FLORES, in collaboration with PRISMA – Centre for Sustainability Assessment and Policy on behalf of TU Dresden, is delighted to present the Nexus Seminar Series. The joint seminar series, which launched in 2015, features lectures by senior scholars and successful practitioners that highlight all dimensions of research on the Nexus Approach, ranging from hands-on implementation strategies to theoretical debates. The Nexus Seminars serve not only as a platform for scientific exchange and cooperation between UNU-FLORES and TU Dresden but also as a medium for the partner institutions to discuss their research with a broader audience.
The seminars are open to the public and, during the academic semester, are held once a month. Under the current circumstances, the Nexus Seminar Series takes the digital form through online webinars.