DATE / TIME:

2022/11/21 14:50 - 16:20

Location:

Online
Lecturer: Dr Saroj Kumar Chapagain

, Associate Programme Officer

, UNU-FLORES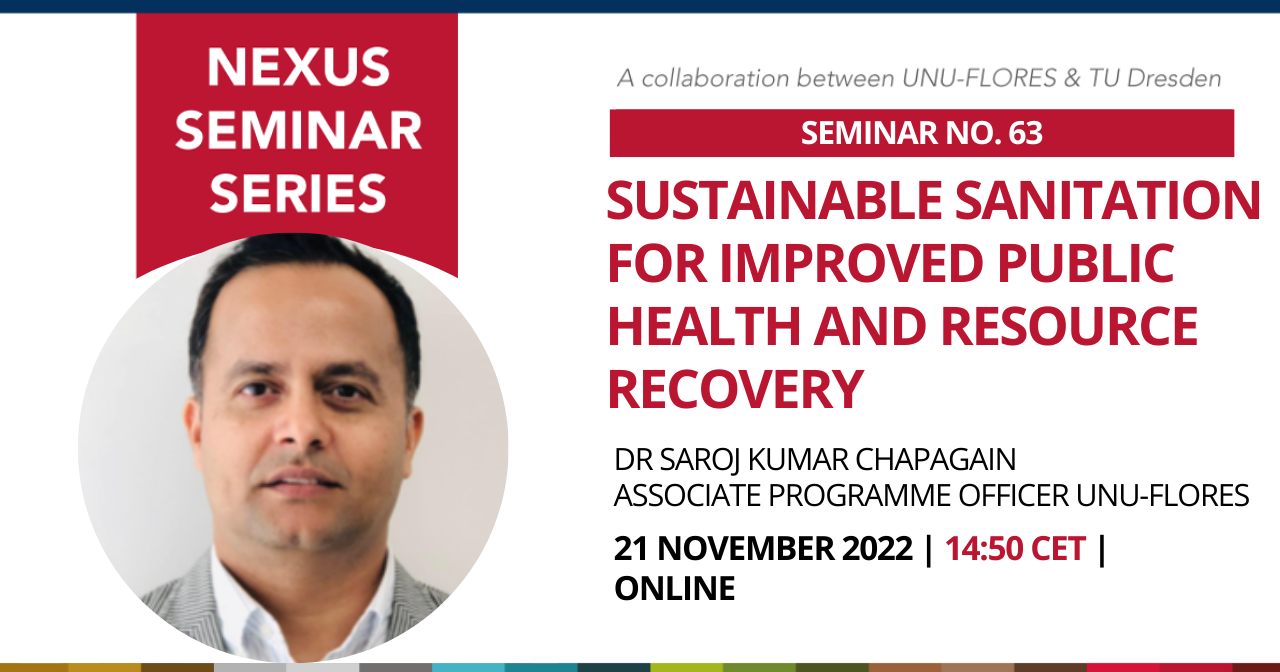 The United Nations (UN) recognised access to water and sanitation as a human right, reflecting the fundamental nature of these basics in every person's life. Unfortunately, at present, about 2.4 billion people around the world still lack access to improved sanitation. Almost two third of the population is from Asia-Pacific (ESCAP 2018). Aside from impairing human dignity, poor sanitation has a detrimental impact on society, mainly resulting in diseases and premature death.
Despite the high priority accorded to this issue by the United Nations and development agencies, the situation has yet to be improved in many developing countries. Access to sanitation facilities has been greatly increased in the past, but there is great concern regarding the management of blackwater for achieving the full benefits of sanitation. In contrast to centralised sanitation, decentralised sanitation is considered a more sustainable option, offering ample resource recovery and recycling opportunities. Besides technology, there is a great need to raise awareness and develop policies and decision-support tools such as sustainability assessment.
Bio
Saroj Kumar Chapagain is an Associate Programme Officer (Sustainability Assessment) at UNU-FLORES. Prior to joining UNU-FLORES, Saroj was a Research Fellow at UNU-IAS, Tokyo, where he worked on Water for Sustainable Development (WSD), a multidisciplinary policy research project examining the role of water in society, economy, and the environment. Aside from the WSD, he also contributed to the teaching and student supervision of the UNU-IAS's Postgraduate Degree and Training Programme (PDT).
Saroj had previously worked as a Senior Research Specialist at the Asian Institute of Technology (AIT), Thailand on a Sustainable Decentralized Wastewater Systems (DEWATs) project supported by the Bill & Melinda Gates Foundation (BMGF). While working at AIT, he participated in reinventing innovative sanitation systems. Moreover, he served as an affiliated faculty member at AIT from April 2016 to December 2017.
Saroj worked as a postdoc researcher at the International Research Center for River Basin Environment (ICRE), University of Yamanashi, Japan; as a researcher/director at the Center of Research for Environment Energy and Water (CREEW), Nepal; and as a water monitoring expert at the Kathmandu Valley Water Supply Management Board (KVWSMB), Nepal. He has authored/co-authored dozens of papers appearing in international refereed journals and proceedings.
---
Nexus Seminar Series
UNU-FLORES, in collaboration with PRISMA – Centre for Sustainability Assessment and Policy on behalf of TU Dresden, is delighted to present the Nexus Seminar Series. The joint seminar series, which launched in 2015, features lectures by senior scholars and successful practitioners that highlight all dimensions of research on the Nexus Approach, ranging from hands-on implementation strategies to theoretical debates. The Nexus Seminars serve not only as a platform for scientific exchange and cooperation between UNU-FLORES and TU Dresden but also as a medium for the partner institutions to discuss their research with a broader audience.
The Nexus Seminar, which takes place monthly during the academic semester, is open to the public and delivered in a digital format through online webinars.