DATE / TIME:

2022/12/12 14:50 - 16:20

Location:

Online
Lecturer: Dr

 Jean Henri El Achkar, Australian University – Kuwait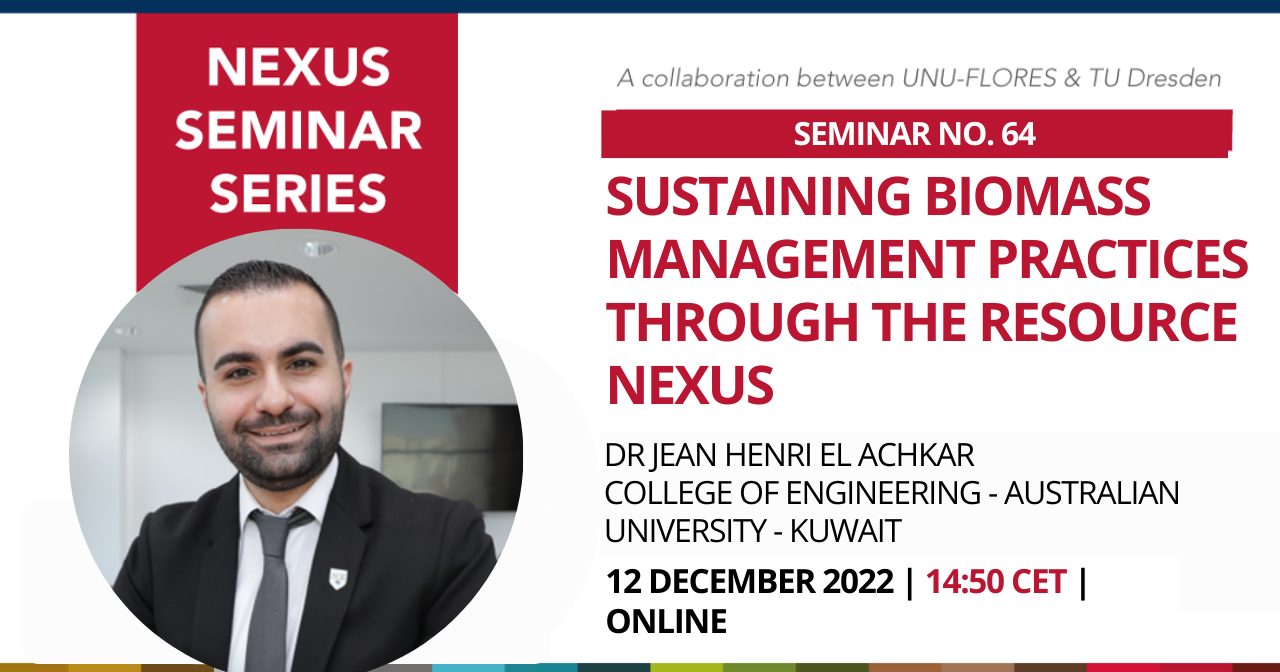 We are currently depleting natural resources faster than nature can replenish them. As a result, waste generation is increasing at an alarming rate. On the other hand, organic waste has enormous untapped potential to provide green energy and a variety of valuable products. Sustainable wastewater and solid waste management practices maximize resource recovery and reduce waste discharge while promoting a circular economy transition. The Nexus strategy supports this transition and integrated resource management through policy integration, alleviating some of the contemporary economy's issues in the water, food, and energy sectors. Several examples of biomass conversion to valuable products, primarily bioenergy, will be shared during this seminar.
Furthermore, produced water (PW), one of the most significant byproducts of the oil and gas industries, will be given special attention. Appropriate PW management is critical for enhancing ecosystem services and promoting circularity in this industrial sector. To summarise, current and emerging trends in biomass management will be discussed based on the Energy-Water-Food Nexus approach. Will we be able to embrace the technology and establish the regulatory framework required to capitalize on the potential benefits of biomass?
Bio
Jean extensively researches the production of bioenergy by anaerobic digestion. Bioenergy is a promising way to reduce the use of fossil resources on the one hand and to make good use of organic waste and byproducts on the other. Biogas produced through anaerobic digestion is a versatile energy source since it can be used to produce heat and electricity combined with heat or biofuel. Moreover, he focused on the green treatment of sludge produced from wastewater treatment plants.
Jean has expertise in biology, biochemistry, chemical- and process engineering combined with economic knowledge and on the Resource Nexus. Jean is committed to innovation and transferring his results to practical use.
---
Nexus Seminar Series
UNU-FLORES, in collaboration with PRISMA – Centre for Sustainability Assessment and Policy on behalf of TU Dresden, is delighted to present the Nexus Seminar Series. The joint seminar series, which launched in 2015, features lectures by senior scholars and successful practitioners that highlight all dimensions of research on the Nexus Approach, ranging from hands-on implementation strategies to theoretical debates. The Nexus Seminars serve not only as a platform for scientific exchange and cooperation between UNU-FLORES and TU Dresden but also as a medium for the partner institutions to discuss their research with a broader audience.
The Nexus Seminar, which takes place monthly during the academic semester, is open to the public and delivered in a digital format through online webinars.