DATE / TIME:

2017/11/20 15:00 - 16:30

Location:

Dresden, Germany
Lecturer: Prof. Dr. Irene Ring (International Institute Zittau, Chair of Ecosystem Services)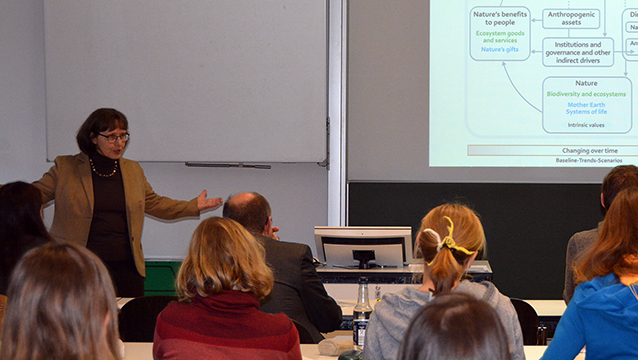 Prof. Dr. Irene Ring (International Institute Zittau, Chair of Ecosystem Services) presents at Nexus Seminar No. 25 (Image: Thuy Nguyen/UNU-FLORES)
---
Nexus Seminar Series
UNU-FLORES in collaboration with the Faculty of Environmental Sciences of TU Dresden is excited to announce the Nexus Seminar Series. The joint seminar series, which launched in 2015, features lectures by senior scholars that highlight all dimensions of research on the Nexus Approach, ranging from hands-on implementation strategies to theoretical debates. The Nexus Seminars serve not only as a platform for scientific exchange and cooperation between UNU-FLORES and TU Dresden but also a medium for the partner institutions to discuss their research with a broader audience.
Taking place once a month, each seminar is open to the public and held alternatingly at UNU-FLORES and TU Dresden.
Please find all past Nexus Seminars here.