DATE / TIME:

2020/04/27 14:50 - 16:20

Location:

Online
Lecturer: Dr Serena Caucci (Senior Research Associate, UNU-FLORES)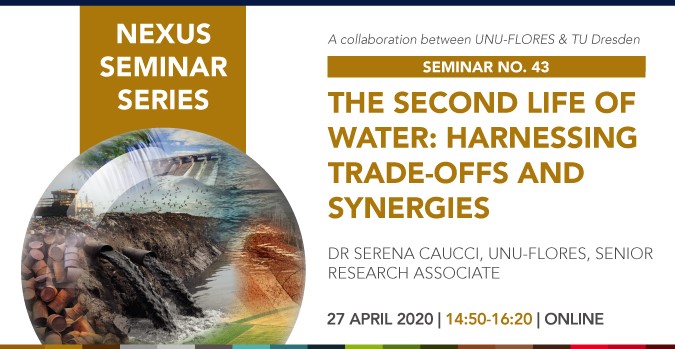 A sustainable development that integrates the environmental, social, and economic dimensions has been the pillar for the introduction of the Sustainable Development Goals (SDGs) for promoting sustainable policy actions. This lecture will look into the relevance of water reuse in the circular economy for both the Global North and Global South and will highlight synergies and trade-offs within sustainable water management.
Sustainability assessments are tools that can support proper management and translation of knowledge into policy actions. Sustainability assessment of water reuse, especially in agriculture, could be a valuable tool to support the achievement of SDG 6 and 12 considering that agriculture accounts for 70 per cent of the worldwide water abstraction. Unfortunately, sustainability assessment often differs in theory and practice.
This lecture will highlight the relevance of water reuse in the circular economy globally and will review the congruency of sustainability assessment in theory and practice. In detail, this presentation we will focus on the dimensionality of the assessments, the boundary in which sustainability indicators are applied, and the gaps for a truly holistic approach will be highlighted. The lecture will also discuss the demo-geography of the regions in which water reuse is applied in agriculture and whether local needs could affect the sustainability assessment criteria. Paths towards the use of a standard but flexible integrated indicator-based assessment methods for sustainable water reuse will be explored. The establishment of a standard set of holistic sustainability indicator factors could be the initial step forward to test sustainability assessment of water reuse in agriculture globally thus contributing to the achievement of the SDGs.
To join the event, please register here.
---
Nexus Seminar Series
UNU-FLORES, in collaboration with PRISMA – Centre for Sustainability Assessment and Policy on behalf of TU Dresden, is delighted to present the Nexus Seminar Series. The joint seminar series, which launched in 2015, features lectures by senior scholars that highlight all dimensions of research on the Nexus Approach, ranging from hands-on implementation strategies to theoretical debates. The Nexus Seminars serve not only as a platform for scientific exchange and cooperation between UNU-FLORES and TU Dresden but also a medium for the partner institutions to discuss their research with a broader audience.
Taking place once a month, each seminar is open to the public and under the current circumstances will be delivered via a virtual Zoom videoconference.
Please find all past Nexus Seminars here.