DATE / TIME:

2020/05/18 14:50 - 16:20

Location:

Online
Lecturer: Prof. Marc Wolfram (TU Dresden, Chair of Spatial Development; Leibniz Institute of Ecological Urban and Regional Development, Director)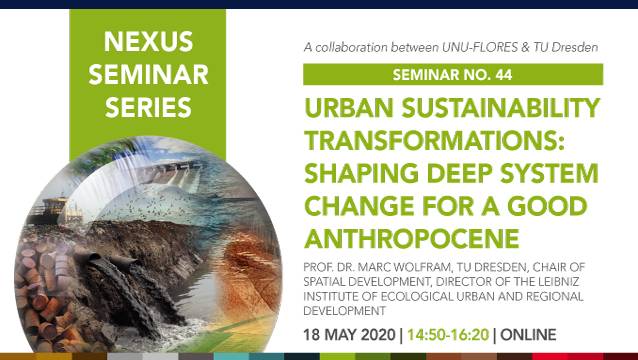 The anthropogenic ecological crisis marks a turning point in human history. Global biodiversity loss, climate change, resource depletion, or the current pandemic are all symptoms illustrating that our current development pathway is unsustainable by any definition. It puts an outstanding burden of social, economic, and ecologic costs on future generations. Moreover, by 2050 the vast majority of people (70–80%) will be living in urban areas. Never before have the urgency of deep system change and the critical role of urbanisation in this been as evident as today. Yet, as societies start to confront the challenge of engaging in a just transition towards alternative urban futures, barriers and resistances appear to grow further, moving the achievement of the Sustainable Development Goals out of reach. Against this backdrop, this seminar introduces the interdisciplinary field of sustainability transformation studies. With a view to the need for radically reshaping the various social-ecological and socio-technical systems coalescing in urban areas (water, energy, food, housing, mobility, etc.), it discusses concepts for designing transformative urban strategies and action.
Bio
Prof. Marc Wolfram is Director of the Leibniz Institute of Ecological Urban and Regional Development (IOER) and full Professor of Spatial Development at Technische Universität Dresden. He has an interdisciplinary academic background and extensive experience as a consultant and senior investigator in Europe (2002–2012) doing collaborative research with stakeholders at all levels on diverse urban sustainability issues. He also worked as an associate professor in South Korea (2013–2019), pioneering research on transformative urban change dynamics, and advising global city networks, UN bodies, and funding agencies. His work has been published widely in leading journals and books. Marc Wolfram is also co-founder and editor-in-chief of the open-access journal Urban Transformations. He is a board member of the International Sustainable Development Research Society (ISDRS), and co-founder of the thematic group on Urban Transitions and Transformations within the Sustainability Transitions Research Network (STRN).
---
Nexus Seminar Series
UNU-FLORES, in collaboration with PRISMA – Centre for Sustainability Assessment and Policy on behalf of TU Dresden, is excited to announce the Nexus Seminar Series. The joint seminar series, which launched in 2015, features lectures by senior scholars that highlight all dimensions of research on the Nexus Approach, ranging from hands-on implementation strategies to theoretical debates. The Nexus Seminars serve not only as a platform for scientific exchange and cooperation between UNU-FLORES and TU Dresden but also a medium for the partner institutions to discuss their research with a broader audience.
Taking place once a month, each seminar is open to the public and under the current circumstances will be delivered via a virtual Zoom videoconference.
Please find all past Nexus Seminars here.