DATE / TIME:

2021/10/18 14:50 - 16:20

Location:

Online
Lecturer: Mrs Sian Cuffy-Young, Siel Environmental Services Limited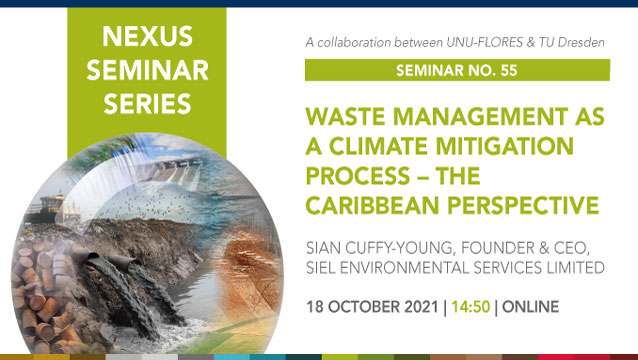 Waste management in Trinidad and Tobago and, by extension, the Caribbean presents a growing concern. From a lack of available space to the absence of actionable legislation, governments and companies are faced with the Herculean task of getting the solutions right.
This presentation will highlight the status quo of the countries 'Trinidad and Tobago' and the Caribbean region and show its way forward. Additionally, it will indicate how Siel Environmental's work, through its strategic positioning, can affect change by bringing waste management to the climate change discussion table.
Bio
Mrs Cuffy-Young is a Colorado Certified Environmental Educator, Author, Speaker and Principal Consultant of Siel Environmental Services Limited. She acquired a B. Sc Honours degree in Physics and MSc in Environmental Engineering from the University of the West Indie. She is a former Fulbright Hubert Humphrey Fellow from Cornell University, where she specialised in natural resource management and climate change policy with a specific focus on quarry rehabilitation. She has been involved in the environmental field for over fifteen years. Her work involves work with schools through her waste education and literacy programme, waste reduction training for individuals and businesses and waste project consultancy work.
---
Nexus Seminar Series
UNU-FLORES, in collaboration with PRISMA – Centre for Sustainability Assessment and Policy on behalf of TU Dresden, is delighted to present the Nexus Seminar Series. The joint seminar series, which launched in 2015, features lectures by senior scholars and successful practitioners that highlight all dimensions of research on the Nexus Approach, ranging from hands-on implementation strategies to theoretical debates. The Nexus Seminars serve not only as a platform for scientific exchange and cooperation between UNU-FLORES and TU Dresden but also as a medium for the partner institutions to discuss their research with a broader audience.
Taking place once a month, each seminar is open to the public and under the current circumstances will be delivered via a virtual Zoom video conference.