DATE / TIME:

2022/06/20 14:50 - 16:20

Location:

Online
Lecturer: Prof. Jürgen Stamm, Director, Institute of Hydraulic Engineering and Mechanical Hydromechanics, Technische Universität Dresden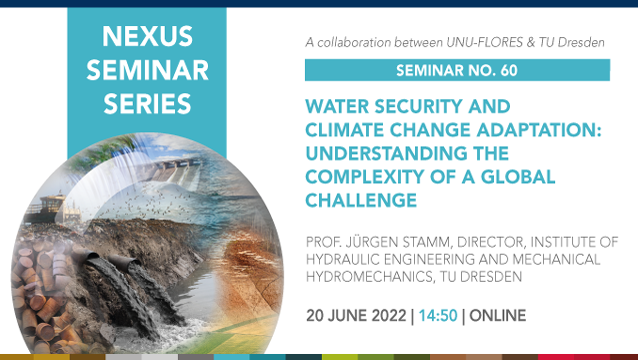 Global climate change is a well-known fact with a multitude of observable impacts on our environment, society and economy. Universities, in particular, have a special significance and responsibility in tackling this. The Sustainable Development Goal 6 (SDG-6) seeks to ensure "availability and sustainable management of water and sanitation for all". Progress on SDG-6 will improve health and reduce the risk of water-borne diseases (SDG-3). Furthermore, the achievement of other SDGs such as SDG-13 (Climate Action) or SDG-14 (Life below water) and 15 (Life on land) are also essential to accomplish SDG-6. Thus, this lecture will consider these interlinkages to better understand the social, economic, and environmental dimensions.
The consortium of the "Global Water and Climate Adaptation Centre" (or ABCD Centre after the first letters of the four participating locations in three countries on two continents) will deal with climate adaptation measures in the Global South, especially in the water sector. Research takes place in three thematic clusters across disciplines:
Water security, water resource management, safe water supply, and water treatment
Ecosystem Resilience and Nature-Based Adaptation Measures
Transfer Strategies: Traditional knowledge, local economies, and social acceptance
The lecture will provide an overview and insights into exemplary case studies.
Bio
In 1996, Prof. Jürgen Stamm successfully completed his doctorate with distinction with his dissertation "Numerical calculation of three-dimensional flow processes around groundwater circulation wells for in-situ groundwater remediation". After working for over ten years at the Federal Waterways Engineering and Research Institute (BAW) in Karlsruhe as Head of Division in the field "Hydraulic Engineering in Inland Areas", in 2008, he was appointed Chair of Hydraulic Engineering as the Director of the Institute of Hydraulic Engineering and Technical Hydromechanics at the Technische Universität Dresden in Germany. In 2019 he was elected Dean of the Faculty of Civil Engineering and, since 2020, Speaker of the School of Civil and Environmental Engineering.
Prof. Stamm and his team have expertise in hydrology, water-retaining structures, hydroelectric power plants, river engineering, hydraulic engineering, numerical flow modelling, lake engineering and coastal protection. In recent years, Prof. Stamm's research has focused on water extremes in urban areas due to climate change, flood protection, remaining opencast mine water investigations, and the development of sensor fish and their digital twin to reduce animal experiments.
---
Nexus Seminar Series
UNU-FLORES, in collaboration with PRISMA – Centre for Sustainability Assessment and Policy on behalf of TU Dresden, is delighted to present the Nexus Seminar Series. The joint seminar series, which launched in 2015, features lectures by senior scholars and successful practitioners that highlight all dimensions of research on the Nexus Approach, ranging from hands-on implementation strategies to theoretical debates. The Nexus Seminars serve not only as a platform for scientific exchange and cooperation between UNU-FLORES and TU Dresden but also as a medium for the partner institutions to discuss their research with a broader audience.
The seminars are open to the public and, during the academic semester, are held once a month. Under the current circumstances, the Nexus Seminar Series takes the digital form through online webinars.