The Nexus Approach to
Environmental Resources Management
A definition from the perspective of UNU-FLORES
"The Nexus Approach to environmental resources management examines the interrelatedness and interdependencies of environmental resources and their transitions and fluxes across spatial scales and between compartments. Instead of just looking at individual components, the functioning, productivity, and management of a complex system is taken into consideration."
---
The term "Nexus" in Latin describes the act of tying together or something which binds. In connection with environmental resource management, the term nexus was introduced for the first time during the 1980s, notably in a project by the UN University (Food-Energy Nexus programme, (Sachs and Silk 1990)). Yet the Nexus Approach only gained prominence in international academia and policy circles in the lead-up to the Bonn2011 conference on the "Water, Energy and Food Security Nexus". The conference argued that such an approach can result in improved water, energy, and food security by integrating "management and governance across sectors and scales", reducing trade-offs, and building synergies, overall promoting sustainability and a transition to green economy (Hoff 2011). The interdependencies of water, energy and food can be visualised as follows: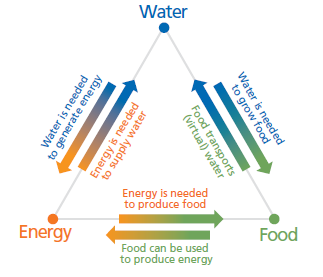 While the term and concept of the Nexus Approach has been increasingly discussed since, there is no single universally recognised definition of the Nexus Approach in international academia to date. Instead, concurrent definitions are in usage, with partly overlapping, partly diverging foci. In this article, UNU-FLORES sets forth its definition of the Nexus Approach.
---
Truly Integrated Management
Integrated management concepts have been used in the individual areas of environmental resources for years. However, the close relationships, interactions, and interdependencies between these resources are usually not taken into consideration when integrated resource management concepts are developed. Yet fixing one challenge in managing one resource often creates challenges for other resources. A better solution can be achieved if these resources are managed collectively using a Nexus Approach.
The integrated and interconnected management of water, soil, waste, and other geo-resources can increase resource use efficiency while at the same time environmental risks and ecological degradation can be minimised. In addition, the Nexus Approach not only emphasises the interrelations of resources, but, given the focus on management, considers also the cycle from research to implementation, thus focusing on governance, the enabling environment as well as on individual capacity development.
The Nexus Approach to the sustainable management of water, soil, waste, and other geo-resources promoted by UNU-FLORES is thus closely related to the water, energy, and food security nexus, looking at it from an environmental resources perspective. It is instrumental to meet the current challenges of growing resource demands, climate change, urbanisation, and globalisation.
---
UNU-FLORES and the Nexus
Advancing a Nexus Approach requires concerted action and cooperation on a global level and across sectors to address the knowledge gaps via well-defined nexus research programmes. Also, the Nexus Approach yet has to find its way into the curriculum of respective study programmes. For a sustained follow-up to the nexus initiative, a long-term commitment of leading institutions and thus institutionalised support is indispensable.
Besides addressing knowledge gaps and the need for better scientific understanding, advancing a Nexus Approach requires special attention in regards to the requirements for the implementation of a Nexus Approach outside the academic circles. Examples of good and improved governance resulting from adopting a nexus perspective are rare. Knowledge issues and education (individual capacity development) must be addressed as well as the organisational level and the enabling environment and systems level (institutional capacity development).
UNU-FLORES is a direct response to the nexus initiative, striving for an integrative approach to the management of water, soil, waste, and other resources (closely related to the water, energy, and food security nexus, see above). An asset of the institute is its integration into the research environment in Dresden and Saxony as well as its strategic positioning within the thematic areas of the UN University. UNU-FLORES will extend and upscale the concept of integrated resource management through adopting a truly integrative perspective by considering interrelated resources and emphasising fluxes of resources between phases and compartments. Instead of following a traditional input-output model that shows how parts of a system are affected by a change in another part of that system, UNU-FLORES explores whether the consistent tracing and management of resources as fluxes will result in sustainable management outcomes.
---
The Nexus and Policy
The complex relations between demand, resource availability and quality, and financial and physical constraints can be addressed by knowledge-based policies and reform of professional practice. The Nexus Approach recognises the urgent need for this knowledge and its interpretation in a policy-relevant setting. This need derives from the understanding that there is a lack of blueprints for development based on integrated management of water, soil, waste, and other geo-resources both in developing and in developed countries. UNU-FLORES pursues the achievement of sustainable environmental outcomes by serving as a think tank that promotes integrated resources management in all countries.
---
References
Hoff, Holger. 2011. Understanding the NEXUS. Background Paper for the Bonn2011 Conference: The Water, Energy and Food Security Nexus. Stockholm: Stockholm Environment Institute.
Huelsmann, Stephan, and Reza Ardakanian, ed. 2015. White Book on Advancing a Nexus Approach to the Sustainable Management of Water, Soil and Waste. Dresden: UNU-FLORES.
Lal, Rattan. 2013. The Nexus of Soil, Water and Waste. UNU-FLORES Lecture Series No. 1. Dresden: UNU-FLORES.
Sachs, Ignacy, and Dana Silk. 1990. Food and Energy: Strategies for Sustainable Development. Tokyo: The United Nations University.
Kurian, Mathew, and Reza Ardakanian, ed. 2015. Governing the Nexus: Water, Soil and Waste Resources Considering Global Change. Switzerland: Springer International Publishing.
---
Further Reading
Hettiarachchi, Hiroshan, and Reza Ardakanian, ed. 2016. Environmental Resource Management and the Nexus Approach: Managing Water, Soil, and Waste in the Context of Global Change. Switzerland: Springer International Publishing.